Buy Topper on DVD!
Topper: Vols. 1 & 2
Topper: Volume 3
10/9/1953 – 9/30/1955 CBS
Black and White
30 minutes – 78 total episodes
Based on Thorne Smith's book
Topper Cast
Leo G. Carroll as Cosmo Topper
Anne Jeffreys as Marion Kerby
Robert Sterling as George Kerby
Lee Patrick as Henrietta Topper Thurston Hall as Mr. Schuyler
Buck as Neil
Topper Tidbits
Serious banker Cosmo Topper (Leo G. Carroll) and his wife Henrietta (Lee Patrick) move into a new home. Much to Cosmo's dismay, the house is haunted by the previous owners, George (Robert Sterling) and Marion Kirby (Anne Jeffreys). Worse, only Topper could see or hear them.
The Kerbys had died in a skiing accident on their fifth wedding anniversary. Their beloved St Bernard dog Neil (Buck) had tried to rescue them and lost his life in the attempt. Poor Neil had developed a drinking problem with a preference for brandy.
The Kerby's were fun people and they could get away with anything they wanted. Topper's life would have been very boring without them.
Anne Jeffreys and Robert Sterling were married in real life.
Passings
Leo G. Carroll died in 1972 of cancer
Lee Patrick in 1982 of heart problems
In 2006 Robert Sterling died after a long battle with shingles
Anne Jeffreys never remarried and passed in 2017 at 94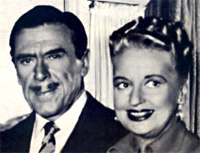 Leo G. Carroll and Lee Patrick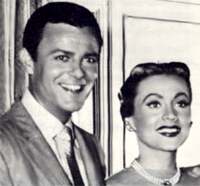 Robert Sterling and Anne Jeffreys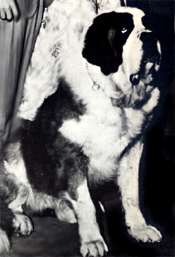 Buck as Neil
External Links
TV Guide's Topper Page, with TV Listings, Photos, Videos, Exclusive News and More.