The Fiftiesweb is grateful to Debbie Young-Groves who has provided her expertise on this TV show, Trackdown. Write Debbie for more info as she is the authority on both the show and its star, Robert Culp.
10/4/1957 – 9/23/1959 CBS
Black and White
30 minutes – 70 episodes
Oct. 1957 – Jan. 1959 Friday 8:00-8:30
Feb 1959 – Sept. 1959 Wednesday 8:30-9:00
Produced by Vincent Fennelly for Four Star Productions
Trackdown Cast
Robert Culp as Hoby Gilman
Ellen Corby as Henrietta
Peter Leeds as Tenner Smith
Trackdown Theme Song
"Trackdown " by William G. Loose, and John Seely
Trackdown Tidbits
Hoby Gilman (Robert Culp) was a Texas Ranger who patrolled during the 1870s. As the show often used actual case files, it had the endorsement of the Texas Rangers and the State of Texas. No other series could claim this.
Trackdown benefited from the creative force of Robert Culp, who wrote some of the stories. His Hoby Gilman was a cooler character than other deadpan Western cowboys. Culp, who often rode to the studio on a motorcycle, imbuded Hoby with a hipness that was ahead of the time but which presaged the Sixties yet to come.
The Wanted:Dead or Alive character of Josh Randall was introduced in this series. See sidebar.
Passings
Robert Culp died in 2010 of a massive herat attack while hiking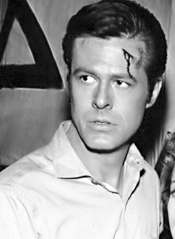 Robert Culp
From the Debbie Young-Groves Collection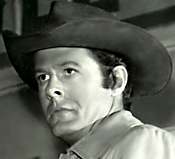 Robert Culp
From the Neil Kutzen Collection
External Links
TV Guide's Trackdown Page, with TV Listings, Photos, Videos, Exclusive News and More.
Trackdown Trivia
The Steve McQueen connection
from Debbie Young-Groves
Robert Culp and Steve McQueen raced motorcycles in New York together. Culp is the one who enticed McQueen to come to LA and he ended up in the series. Both had the same agent, Hilly Elkins (Culp still has him).

When Vincent Fennelly was looking to cast for a new show, Elkins suggested MCQueen. They decided to shoot the pilot as an episode of Trackdown.

McQueen's character from Wanted:Dead or Alivewas introduced in the Trackdown epsiode, "The Bounty Hunter" and he also appeared again "The Brothers."