Buy The Untouchables on DVD
Season 1, Vol. 1 (1959)
Season 1, Vol. 2 (1960)
Season 2, Vol. 1 (1960)
Season 2, Vol. 2 (1961)
Season 3, Vol. 1 (1961)
Season 3, Vol. 2 (1962)
Season 4, Vol. 1 (1962)
Season 4, Vol. 2 (1963)
October 15, 1959 – May 21, 1963 119 episodes on ABC (4 seasons) in black & white
produced by : Quinn Martin (1959-1960)
shot at : Desilu Studios, California
CAST
Robert Stack — Eliot Ness
Nicholas Georgiade — Agent Enrico Rossi
Paul Picerni — Agent Lee Hobson
Abel Fernandez — Agent William Youngfellow
Steve London — Agent Jack Rossman
Neville Brand — Al Capone
Les Lampson — announcer
Walter Winchell — narrator
Opening Theme
by: Nelson Riddle
STORYLINE
Special Agent Eliot Ness and his elite team of agents battle organized crime in 1930s Chicago.
Based on the autobiographical book "The Untouchables" by Eliot Ness and Oscar Fraley the series was set in Chicago
during Prohibition. Ness was a federal Revenue Agent bent on ending organized crime's lucrative alcohol distribution business.
His hand picked squad of agents was nicknamed "The Untouchables" because of their incorruptibility.
The show drew harsh criticism from some Italian-Americans, who felt it promoted negative stereotypes of them as mobster's and gangsters
there was even a boycott of some sponsors products which led to Chesterfield King cigarettes to drop its sponsorship,
the show was forced to make some changes including expanding the role of the character Nick Rossi who was the only Italian/American agent on Ness's squad.
The series was panned for what critics at the time deemed "excessive and senseless violence" yet public loved the action.
Video Clip of "The Untouchables" Opening
Passings
Robert Stack died in 2003 at 84 of a heart attack,
Paul Picerni in 2011 at 88,
Neville Brand in 1992 at 71 of emphysema,
Walter Winchel in 1972 at 74 of prostate cancer.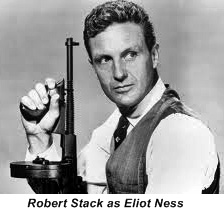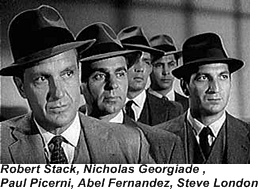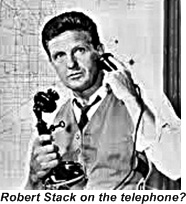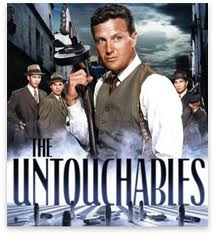 TRIVIA:
Van Johnson was originally slated to play Eliot Ness, but he backed out the weekend before filming was to start in a dispute over money. Robert Stack was hastily recruited on Sunday morning fitted for costumes that afternoon, and started filming the next morning.
TRIVIA:
The Untouchables attracted a lot of talent and launched quite a few careers with their selections of guest stars, here are some of them:
Edward Asner, Martin Balsam, William Bendix, Charles Bronson, Victor Buono, James Caan, Dyan Cannon, Mike Connors, Robert Duvall, Peter Falk, Anne Francis, Richard Jaeckel, Robert Karnes, Jack Klugman, Martin Landau, Cloris Leachman, Jack Lord, Lee Marvin, Gavin MacLeod, Ricardo Montalbán, Elizabeth Montgomery, Patricia Neal, Leslie Nielsen, Leonard Nimoy, Carroll O'Connor, Gregg Palmer, Robert Redford, Cliff Robertson, Telly Savalas, Barbara Stanwyck, Jan Sterling, Suzanne Storrs, Roy Thinnes, Claire Trevor, Lee Van Cleef, Jack Warden, Steven Hill and others.