Welcome to| 1950s Cars – Edsel
No new car launch ever got as much publicity as the Edsel did when it was introduced in 1958.
Manufactured by Ford Motor Company the Edsel was conceived to round out Ford's lineup.
With the addition of Edsel Ford would now have five models just like GM had (Ford still considered Continental separate).
Edsel was named for Edsel Ford who had died in 1943 and was the only son of the original Henry Ford.
The new Edsel had eighteen various model choices including 3 top of the line Citation models, 2 Corsairs, 4 Pacers, and 4 budget minded Rangers.
Edsel had a very distinctive appearance, its new grill design resembled a horse collar and was dubbed the same by critics.
The Edsel unfortunately was launched into a mild recession which hit mid-priced cars the hardest. Sales never met Ford's expectations and the line was discontinued in November of 1959 marking the biggest failure in Ford's history. History however will remember the Edsel as a good car at a bad time.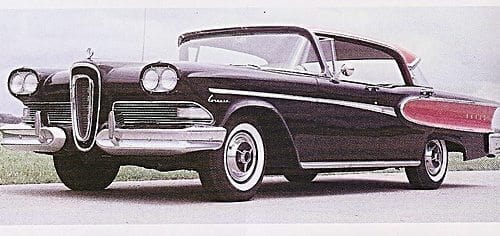 1958 Edsel Corsair Hardtop
Cost: $2,850.00

1958 Edsel Pacer Convertible

Edsel's mid-range Pacer series also offered a convertible
it was almost identical to the higher priced Citation except for interior appointments and exterior chrome
it sold twice as well as it's more expensive big brother
Cost: $3,025.00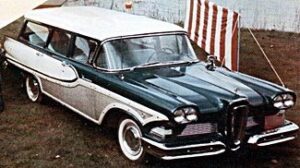 1958 Edsel Bermuda Station Wagon
Part of the Pacer line, this wagon could be ordered
with seating for six or nine passengers by adding an extra row of seats
with all the seats folded down the bed was almost ten feet long
Cost: $3,665.00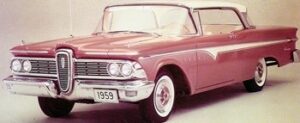 1959 Edsel Ranger

Edsel's line up dropped to only 3 categories Corsair, Villager and Ranger
All Edsel's got a mild makeover to make them less distinctive
hoping to drive more sales,
the recession however would win and Ford pulls the plug on the Edsel
Cost: $2,691.00

1959 Edsel Ranger – 4 Door

Ranger sold the best but total Company output was only 45,000 vehicles
the Ranger four-door claimed the top seller spot
and was considered lowest of midrange models
Cost: $2,684.00