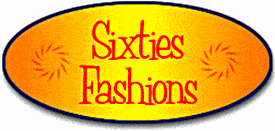 1960s Fashions
Pants, Shorts, Culottes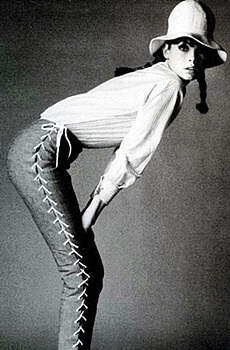 1960s Fashion Pants  what's old is new. Many of these 1960s fashions could be worn today. Capri pants are popular again!
It cannot be repeated enough. Pants were worn for only the most casual activity. And never ever worn to school. They were not prevalent in the work place yet either.

Wards 1960
2 piece set. Pop top. Mid-calf pants in all cotton sharkskin. $4.97

Sears 1963
Cotton Knits.
Left – Jester shirt with whimsical notched hem. $2.83 Capri pants with a lean, lanky fit. Completely lined with cotton. $3.77
Right – Mandarin look pullover with solid color accents. $2.83 Cabin boy pants flattering knee-high length. Cotton lines. $3.77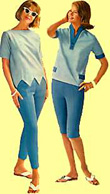 The pair of long pants pictured here were considered capri length, which tended to be longer than the capri pants of modern times.
Siegel 1960
Over blouse in waffle weave cotton knit. $4.88 Capris – Knit-effect woven cotton. Trim 'n tapered. High-rise waist. $5.97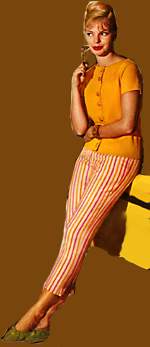 The pair of long pants pictured here were considered capri length, which tended to be longer than the capri pants of modern times.

Sears 1963
Cotton Double Knits
Left – Hip belted overblouse. $3.77 Walking shorts. Cotton lining, side zipper. $3.77
Right – V-neck pullover with striped rib-knit trim. $3.77 Capri pants tailored for sleek fit. Fully lined. Side zipper. $5.77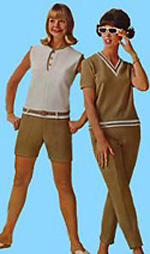 This short set is very typical of what most women would have worn. Madras was all the rage, and the length of the short would have been considered "respectable."
Ward's 1960
Shirt – Madras type plaid pullover Wash 'n Wear 100% cotton. $2.98
Walking shorts – Dan River 100% cotton fine rib cord. $3.88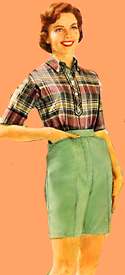 At right, note that the short shorts are covered by a skirt. Again, a lady doesn't show too much leg!
Ward's 1960
2 piece set. Playsuit with its own button skirt in all cotton polka dot print. $4.44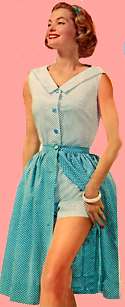 Culottes were another staple of 1960s fashions. They came as dresses, shorts, skirts. These were not allowed at school but if they looked enough like a skirt then you usually got away with it.
The "coolie" hat was popular in catalogs but I never saw anyone wearing one.
Montgomery Ward's 1961
Pop top. All cotton sheen gabardine. Back button close. $2.87 Culotte of all cotton sheen gabardine. 2 pockets. $4.47 Coolie hat $2.39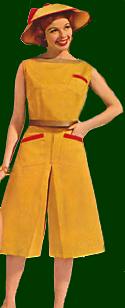 Sears 1963
Medallion print culotte, step-in style. Smooth percale. $3.84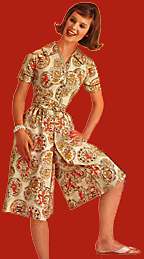 At last the swinging sixties found its groove. Everything including pants got groovy in the late 1960s. Bell bottoms, hip huggers, and yes, finally, you could see a navel.
Teens embraced the new styles. (See also Teen clothes) Even mainstream women were sporting wider legs and lower waistlines.
However, women wore dresses far more often than pants, which were still considered casual clothing.
The outfit at right retains the feminine touch in the blouse, while the pants scream Sixties.
Montgomery Ward 1969
Pants – A smashingly bold print in cotton $5.97 Shirt goes to a bilowy full long sleeve with button cuffs in crisp Fortel polyester and cotton. Shadow striped, semi-sheer and dandified with ruffle front. $4.97


And what fun are these two pieces. You can buy the dress alone or the dress with the pants.
Montgomery Ward 1969
Paisley emsemble with a dashing romantic look. Button front dress has a shapely Edwardian collar, long slim sleeves, 3″ hem. Tapered bell bottom pants have a back zipper. Both crisp cotton canvas cloth.
Dress alone $7.66
Dress and pants $10.66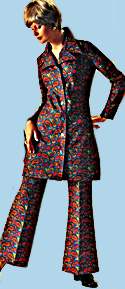 Flower power! Flowers fabrics abounded. At left, a traditionally cut pair of slacks made, well, louder, but an abundance of flowers. Note the wide collar. It's a late 1960s style.
Montgomery Ward 1969
Wide leg pants. Bold flower print makes a big impression everytime. InTexury cotton homespun. A fresh new flare for wide legged pants. $6.66

The pair at right reflects the fascination with the bolero jacket and the gaucho look. Again, notice the softness of the blouses and the bell bottom pants.
Montgomery Ward 1969
Bolero sets Sashed wide leg pants plus a wisp of a bolero.
Pants left – Daises go big, go boldin a dramtic, a real eye catcher of a print. $10.99
Pants right – Solid color linen-look takes a neat turn in crisp rayon and cotton. $13.99
Dashing shirts in lavishly soft crepes
Shirt left- Oh those ruffles! Delighfully done up in smooth Arnel triacetate crepe. $5.99
Shirt right – The big collar, long pointed and looking greatest in lightly textured acetate crepe. $6.99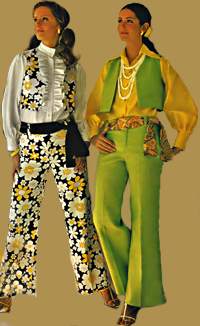 This pant set demonstrates ways in which the average woman might update her wardrobe without going too mod. The jeans are pure flower power, while maintaining traditional styling. The shirt has the wide collar but soft lines.
Montgomery Ward 1969
Shirt – Solid color in soft and semi-sheer Kodel polyester and cotton. Dashingly styled with pointed collar, full sleeves, triple buttons and shirt-tail bottom $5.97
Jeans – Jeans with great style in flower print cotton. Authentic Western looks show up in zippered fly front, snap closing, belt loops, back yoke, 4 pockets. $5.97

At right, a rather ordinary tee shirt with the new look hip hugger pants and wide belt. (More hip huggers in Teen Clothes)
Montgomery Ward 1967
Top – Tank tops comes in ribs of cotton double knit. $2.99
Pants – Sporty denim pants come in a heavier weight cotton weave. They're Sanforized, maximum shrinkage only 1%. $4.99

These are hip. This pants dress with boots could have come straight out of a London boutique.
Sears 1968
Multicolor striped pant dress in broadcloth of Fortrel polyester and cotton. $14.99
Knee high boot. This scene stealer stretches to cling. It's long and lean. Patent vinyl uppers. $12.84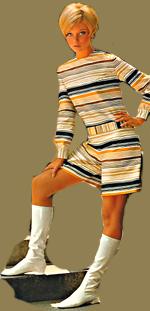 The two piece at right has the loud color and pattern associated with the late 1960s. And lawdy, a navel. Eat your heart out Brittany Spears. But let's get serious.
McCall's 1967
Scanned from an ad for Diet Imperial Margarine. Really!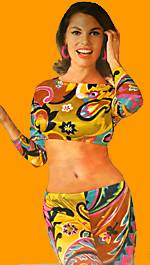 They were called hostess pajamas or culottes. Considered the ideal outfit for entertaining, they were usually loose, flowing, gown type outfits.
McCall's 1967
Spectacular hostess pajamas are of waterfall printed silk in shades of red, pink and taupe. Fabric designed by Julian Tomchin. Pajamas by Donald Brook.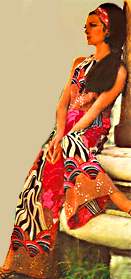 Penney's 1968
Stylish hostess culotte in a brilliant print – perfect for entertaining. Lavishly colored full-legged culotte lets you entertain or lounge in style. Luxurious Avril rayon and cotton soften fabric, gives off a soft glow and is so soft to the touch. Fitted bodice and scooped neckline for a flattering look. Shirred waist gives an added flare tot he culotte as it flows to the floor. $7.94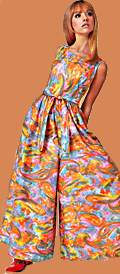 Here you have two huge stars from the 1950's and 1960's. Both Mary Tyler Moore (left) and Audrey Hepburn (right) are wearing what were called 'cigarette pants'. They were stretchy, tight and very popular. Black seemed to be the favorite color but they could be purchased in an array of solid colors.


Last but not least is the blue jean. It gained popularity in the 1960s specially with young people. If you were an adult you probably only wore jeans if you were going to an outdoor event where you might get messy or soiled. If you were under 20 you wore them all of the time (except at school).
Shown here is another popular screen star Grace Kelly who later married the Prince of Monaco and became Princess of Monaco.