Click for Robert Fuller's Main Page
Click for an extra page of pics for Robert Fuller fans
OFFSITE FULLER LINKS:
Tony Gill's Laramie/Robert Fuller siteThe world discovered Robert Fuller with the arrival on TV of the show Laramie. Two brothers, Slim, played by John Smith and young Andy were determined to hold onto their ranch after the death of their father. But they needed help. Well, who should wander into their area of the Wyoming Territory but drifter Jess Harper. From 1959 until 1963 Robert Fuller was Jess Harper, a role he was born to play.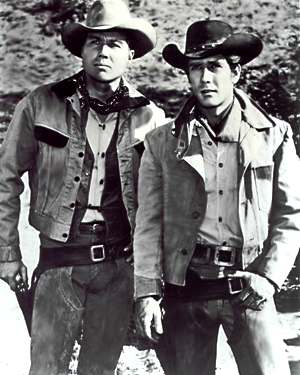 From the Margaret Edwards Collection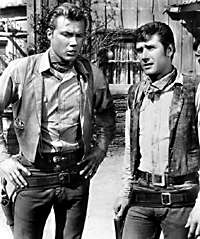 From the Doug Abbott CollectionRobert Fuller owned his own horse, Hoot, who Jess Harper called Traveler after the horse of General Robert E. Lee.
Pictured with John Smith
(above and left)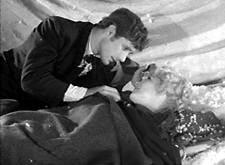 From the Megan Herring CollectionBut wait, you say. That's Robert Fuller on a wagon but he sure doesn't look like Coop. That's because Fuller did two Wagon Train episodes as guest star before he became a full time cast member. In 1957 he played in the Ella Lindstrom Story (ep. # 2.18) and the Kate Parker Story (ep. #2.31). His role as Chris in Kate Parker (left and right) was one of Wagon Train's most memorable.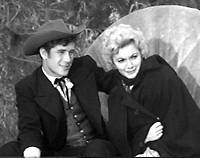 From the Megan Herring CollectionIn 1963 Robert Fuller joined the Wagon Train permanent cast as scout Cooper "Coop" Smith.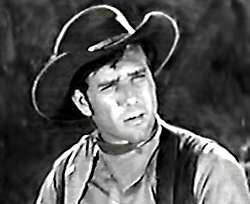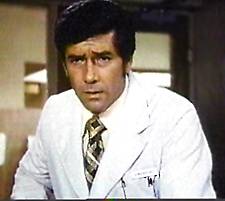 From the Megan Herring CollectionIn 1972, Robert Fuller assumed a starring role in Jack Webb's Emergency! Fuller easily shed his cowboy gear to become Dr. Kelly Brackett M.D./F.A.C.S.
Below and at left are pictures from Emergency!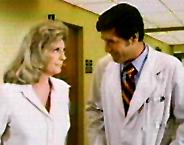 From the Megan Herring Collection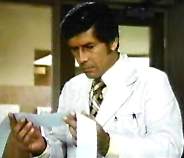 From the Megan Herring Collection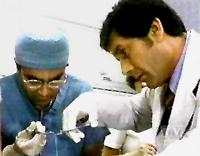 From the Megan Herring CollectionRobert Fuller, born July 29, 1934 in Troy, NY is married to Jennifer Savidge. Recently, he was seen in the movie Maverick, much to the joy of fans.
Below you will find a partial list of Robert Fuller's credits. He has made guest appearances in popular TV shows such as in Diagnosis Murder, Walker, Texas Ranger and Murder She Wrote.Maverick (1994) as Riverboat Poker Player
Repossessed (1990) as Dr. Hackett
Bonanza: The Next Generation (1988) (TV)
Megaforce (1982) as Pilot
Separate Ways (1981) as Woody
Disaster on the Coastliner (1979) (TV) as Matt Leigh
Donner Pass: The Road to Survival (1978) (TV)as James Reed, and Narrator
Mustang Country (1976) as Griff
The Gatling Gun (1973) as Sneed
Emergency! (1972) (TV) as Dr. Kelly Brackett M.D./F.A.C.S
The Hard Ride (1970) as Phil
Mittsommernacht (1970) as Tore
Whatever Happened to Aunt Alice? (1969) as Mike Darrah
Kommando Sinai (1968) as Capt. Yuri Littman
Return of the Seven (1966) as Vin
Incident at Phantom Hill (1966) as Matt Martin
Wagon Train (1963-65) (TV) as Cooper Smith
Laramie (1959) (TV) as Jess HarperFrom Return of the Seven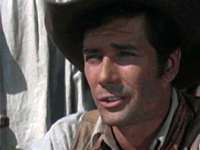 From Return of the Seven
(with Yul Bryner)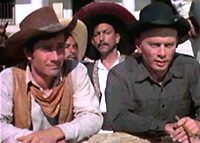 From – Wagon Train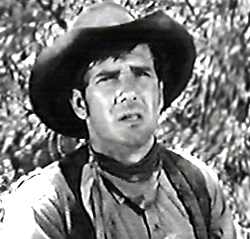 From Maverick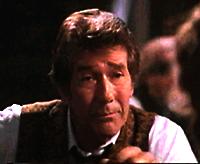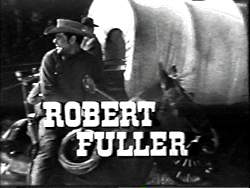 Click for Robert Fuller's Main Page
Click for an extra page of pics for Robert Fuller fans