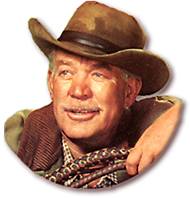 Main Ward Bond page
Ward Bond Pictures
Ward Bond appeared in over 250 movies during his long career. He is perhaps most memorably associated with John Wayne and John Ford. So close was this long standing relationship, that Ford directed an episode of Wagon Train, The Colter Craven Story, in which Wayne makes a cameo appearance. He played General William Tecumseh Sherman and is billed as Michael Morris, a take-off on his real name, Marion Michael Morrison.
Bond's role which served as model for Major Seth Adams was that of Elder Wiggins in Wagonmaster, also a John Ford film.
The group of men known as the John Ford Stock Company, which included Frank McGraff, Terry Wilson, Harry Carey Jr., Ben Johnson and others, were the last of breed. Men who were expected to be as tough as the characters they played.
Below is a partial list of Ward Bond's credits.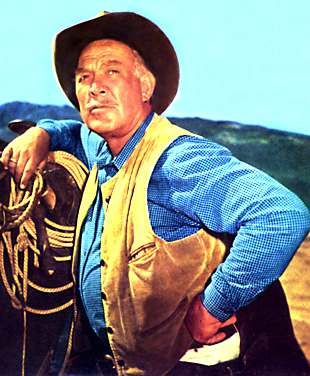 From the Doug Abbott Collection
THE FIFTIES
Alias Jesse James (1959) as Major Seth Adams (cameo)
Rio Bravo (1959) as Pat Wheeler
China Doll (1958) as Father Cairns
The Halliday Brand (1957)as Big Dan Halliday
The Wings of Eagles (1957) as John Dodge
Dakota Incident (1956) as Sen. Blakely
Pillars of the Sky (1956) as Dr. Joseph Holden
The Searchers (1956) as Rev. Captain Samuel Johnson Clayton
A Man Alone (1955) as Sheriff Gil Corrigan
Rookie of the Year (1955) (TV) as Larry Goodhue
Mister Roberts (1955) as Chief Petty Officer Dawdy
The Long Gray Line (1955) as Captain Herman J. Koehler
The Bob Mathias Story (1954) as Coach Jackson
Gypsy Colt (1954) as Frank MacWade
Johnny Guitar (1954) as John McIvers
Blowing Wild (1953) as Dutch Peterson
Hondo (1953) as Buffalo Baker
The Moonlighter (1953) as Cole
Hellgate (1952) as Lieutenant Tod Vorhees
Thunderbirds (1952)as Lt. John McCreery
The Quiet Man (1952) as Father Peter Lonergan, Narrator
On Dangerous Ground (1951) as Walter Brent
The Great Missouri Raid (1951) as Major Trowbridge
Only the Valiant (1951) as Corporal Timothy Gilchrist
Operation Pacific (1951) as 'Pop' Perry
Singing Guns (1950) as Sheriff Jim Caradoc
Riding High (1950) as Lee Kiss
Tomorrow Goodbye (1950) as Inspector Charles Weber
Wagonmaster (1950) as Elder Wiggs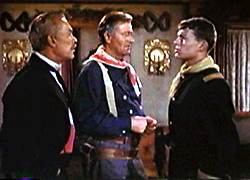 From The Searchers
With John and Patrick Wayne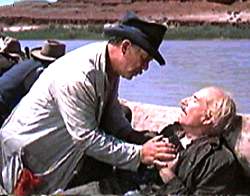 From The Searchers
THE FORTIES
Tap Roots (1948) as Hoab Dabney
The Time of Your Life (1948) as McCarthy
3 Godfathers (1948) as Perley 'Buck' Sweet
Joan of Arc (1948) as La Hire
Fort Apache (1948) as Sergeant-Major Michael O'Rourke
The Fugitive (1947) as El Gringo
Unconquered (1947) as John Fraser
It's a Wonderful Life (1946) as Bert
My Darling Clementine (1946) as Morgan Earp
Canyon Passage (1946) as Honey Bragg
Dakota (1945) as Jim Bender
They Were Expendable (1945) as Boats
Home in Indiana (1944) as Jed Bruce
The Sullivans (1944) as Lieutenant
Tall in the Saddle (1944) as "Judge" Garvey
Slightly Dangerous (1943) as Jimmy
They Came to Blow Up America (1943) as Mr. Craig
A Guy Named Joe (1943) as Al Yackey
Hello, Frisco, Hello (1943) as Sharkey
Hitler–Dead or Alive (1942) as Steve Maschick
Sin Town (1942) as Rock Delaney
Ten Gentlemen from West Point (1942) as Sgt. Scully
Gentleman Jim (1942) as John L. Sullivan
The Falcon Takes Over (1942) as Moose Malloy
In This Our Life (1942) as Cameo appearance
Know for Sure (1941) as Patient
Swamp Water (1941) as Tim Dorson
Wild Bill Hickok Rides (1941) as Sheriff Edmunds
The Maltese Falcon (1941) as Det. Sergeant Tom Polhaus
Doctors Don't Tell (1941)
The Shepherd of the Hills (1941) as Wash Gibbs
Manpower (1941) as Eddie Adams
Sergeant York (1941) as Ike Botkin
A Man Betrayed (1941) as Floyd
Tobacco Road (1941) as Lov
The Cisco Kid and the Lady (1940) as Walton
Kit Carson (1940) as Ape
Santa Fe Trail (1940) as Townley
The Long Voyage Home (1940) as Yank
Sailor's Lady (1940) as Shore patrolman
The Mortal Storm (1940) as Franz Buck
Benny Rides Again (1940) as First Outlaw
Virginia City (1940) (uncredited) as CSA Sgt. Checking Passengers
The Grapes of Wrath (1940) as Policeman
Little Old New York (1940) as Regan, Shipyard Owner
Mexican Spitfire (1940) (uncredited)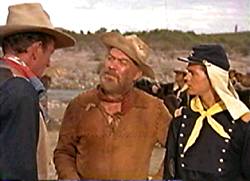 From Hondo
With John Wayne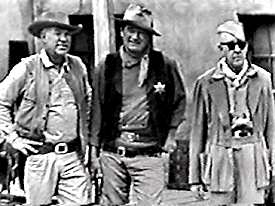 With John Wayne and John Ford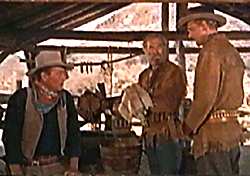 From Hondo
With John Wayne and James Arness
Wayne would recommend Arness for Gunsmoke
and introduce the first episode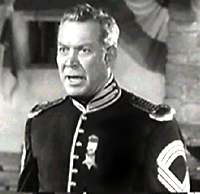 From Fort Apache
THE THIRTIES
Drums Along the Mohawk (1939) as Adam Hartman
Frontier Marshal (1939) as Town Marshal
The Girl from Mexico (1939) as Mexican Pete
Heaven with a Barbed Wire Fence (1939) as Hunk Pardon
Our Nerve (1939) as Kid Ramsey
Trouble in Sundown (1939) as Dusty
Gone with the Wind (1939) as Tom, a Yankee Captain
Dust Be My Destiny (1939) (uncredited) as Thug
Return of the Cisco Kid (1939) as Tough
Mr. Moto in Danger Island (1939) as Sailor Sam – wrestler
Waterfront (1939) as Mart Hendler
Made for Each Other (1939) (uncredited) as Hatton
Young Mr. Lincoln (1939) as John Palmer Cass
The Kid From Kokomo (1939) as Ladislaw Klewicki
Confessions of a Nazi Spy (1939) (uncredited) as American Legionnaire
Union Pacific (1939) (uncredited) as Tracklayer
Dodge City (1939) as Bud Taylor
The Oklahoma Kid (1939) as Wes Handley
They Made Me a Criminal (1939) as Lenihan
Son of Frankenstein (1939) (uncredited) as Gendarme at Gate
Born to Be Wild (1938) as Bill Purvis
Flight Into Nowhere (1938) Fugitives for a Night (1938)
Going Places (1938) (uncredited) as Clarence, a Policeman
Gun Law (1938) as Pecos
Hawaii Calls (1938) as Muller
Prison Break (1938) as Red Kincaid
Reformatory (1938) as Mac Grady
Submarine Patrol (1938) as Olaf Swanson
Of Human Hearts (1938) (uncredited) as Lout
Law West of Tombstone (1938) as Mulligan P. Martinez
You Can't Take It with You (1938) (uncredited) as Detective
Professor Beware (1938) as Motorcycle cop
The Amazing Dr. Clitterhouse (1938) as Tug
Numbered Woman (1938)
The Adventures of Marco Polo (1938) (uncredited) as Mongol Guard
Mr. Moto's Gamble (1938) as Big Moran
Penitentiary (1938/I) as Prison barber
Over the Wall (1938) as Eddie Edwards
Bringing Up Baby (1938) (uncredited) as Cop
The Kid Comes Back (1938) (uncredited) as Spike, Sparring Partner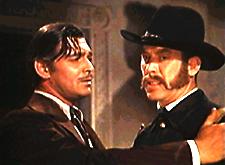 From Gone With the Wind
With Clark Gable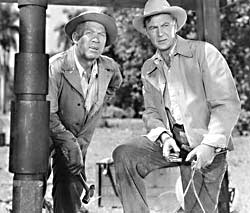 From Blowing Wild
With Gary Cooper
Escape by Night (1937) as Spudsy
A Fight to the Finish (1937) as Eddie Hawkins
The Game That Kills (1937)
The Go Getter (1937) (scenes deleted)
Mountain Music (1937) as G-Man
Music for Madame (1937) as Henchman
Night Key (1937) as "Fingers"
The Soldier and the Lady (1937)
Topper (1937) (uncredited) as Car mechanic/salesman
The Westland Case (1937) (uncredited) as Connors
When's Your Birthday? (1937)
The Wildcatter (1937) as Johnson
Fight for Your Lady (1937) (uncredited) as Walton, wrestler
Souls at Sea (1937) (uncredited)
Dead End (1937) as Doorman
You Only Live Once (1937) (uncredited) as Guard
Marry the Girl (1937) (uncredited) as First Motorcycle Policeman
The Singing Marine (1937) as First Sergeant
They Gave Him a Gun (1937) (uncredited) as Military Policeman
23 1/2 Hours Leave (1937) as Top Sergeant Burke
Park Avenue Logger (1937) as Paul Sanger
The Devil's Playground (1937) as Sidecar Wilson
The Big Game (1936) (uncredited) as Gambler
The Bride Walks Out (1936) (uncredited) as Taxi Driver
Fatal Lady (1936)
The First Baby (1936) (uncredited)
High Tension (1936) (uncredited)
Hitch Hike Lady (1936)
The Leathernecks Have Landed (1936) as Tex
The Man Who Lived Twice (1936) as Gloves
Pride of the Marines (1936) as Gunner Brady
Second Wife (1936) (uncredited) as Politician
They Met in a Taxi (1936) as Policeman
Two in the Dark (1936) (uncredited) as Cop in park
White Fang (1936) (uncredited)
Without Orders (1936) as Tim Casey
Conflict (1936) as Carrigan
The Accusing Finger (1936) (uncredited) as Prison Guard
Legion of Terror (1936) as Don Foster
The Gorgeous Hussy (1936) (uncredited) as Officer
Crash Donovan (1936) as The Drill Master
Avenging Waters (1936)
Fury (1936) (uncredited) as Objector
The Cattle Thief (1936) as Ranse
Colleen (1936) (uncredited) as Sweeney the Cop
Boulder Dam (1936) (uncredited) as Pa's Guest
Muss 'em Up (1936) as 'John Doe,' a Gangster
Devil Dogs of the Air (1935) as Senior instructor
Grand Old Girl (1935) (uncredited) as Mr. Clark, Football Coach
Guard That Girl (1935) as Budge
The Headline Woman (1935) as Johnson
Little Big Shot (1935) as Henchman
Mary Jane's Pa (1935) (uncredited) as Roughneck
Murder in the Fleet (1935) as 'Heavy' Johnson
One New York Night (1935)
She Gets Her Man (1935) as Chick
Strangers All (1935) (uncredited) as A.D. on Film Set
Times Square Lady (1935)
Too Tough to Kill (1935) as Danny
Under Pressure (1935)
Waterfront Lady (1935)
We're Only Human (1935) as Henchman
Broadway Hostess (1935) (uncredited) as Lucky's HenchmanWestern Courage (1935) as Lacrosse
The Last Days of Pompeii (1935) (uncredited) as Murmix
Black Fury (1935) as Mac
Go Into Your Dance (1935) (uncredited) as Herman Lahey
His Night Out (1935) as Lanky
Three Kids and a Queen (1935)
Justice of the Range (1935) as Bob Brennan
The Informer (1935) (uncredited) as Man
'G' Men (1935) (uncredited) as Gunman at Train Station
Fighting Shadows (1935) as Brad Harrison
The Crimson Trail (1935) as Luke Long dy
6 Day Bike Rider (1934) (uncredited)
Against the Law (1934)
Circus Clown (1934) (uncredited) as Unimpressed Man
Crime of Helen Stanley (1934)
Death on the Diamond (1934) (uncredited) as Police Guard
Girl in Danger (1934)
I'll Tell the World (1934)
A Man's Game (1934) as Dave
Men of the Night (1934) as Connors
The Most Precious Thing(1934)
Speed Wings (1934)
Straightaway (1934)
Voice in the Night (1934) as Bob
Broadway Bill (1934) (uncredited) as Morgan's henchman
Kid Millions (1934) (uncredited) as Bit Part
The Human Side (1934) as Cop
Chained (1934) (uncredited) as Ship Steward
The Defense Rests (1934) as Good
Here Comes the Groom (1934) as Cop
The Most Precious Thing in Life (1934) as Head Coach Smith
The Affairs of Cellini (1934) (uncredited) as Guard
Whirlpool (1934) as Farley
Fighting Ranger (1934) as Dave
The Poor Rich (1934) as Motor Cop
It Happened One Night (1934) (uncredited) as Bus Driver
Frontier Marshal (1934) as Ben Murchison
Heroes for Sale (1933) (uncredited) as Red
Obey the Law (1933) as Kid
Paris Police Car 17 (1933) as Bumps O'Neill
Son of a Sailor (1933) (uncredited)
State Trooper (1933)
When Strangers Marry (1933) as Billy McGuire
The Wrecker (1933) as Cramer
The Fighting Code (1933) as Krull
College Coach (1933) as Assistant Coach
Wild Boys of the Road (1933) (uncredited) as Red, the Raping Brakeman
Lady for a Day (1933) as Mounted Policeman
Unknown Valley (1933) as Elder Sneed
Lucky Devils (1933) (uncredited)
Flesh (1932) as Muscles Manning
Hold 'Em Jail (1932) (uncredited)
Rackety Rax (1932) as Brick Gilligan
The Trial of Vivienne Ware (1932) (uncredited)
The Sundown Rider (1932) as Gabe Powers
Airmail (1932) (uncredited) as Joe Barnes
Virtue (1932) as Frank
White Eagle (1932) as Bart
Hello Trouble (1932) as Heavy Kenne