9/23/1958 – 8/20/1962
ABC 60 minutes
Black and White – 68 episodes
Sept. 1958-Sept. 1960
ABC Tuesday 7:30-8:30
Oct. 1960-Aug. 1962
ABC Monday 7:30-8:30
Produced by Warner Brothers
Bronco Cast
Ty Hardin as Bronco Layne
Jack Elam as Toothy Thompson
Bronco Theme Song
"Bronco" by Paul Sawtell
Bronco, Bronco, tearin' across the Texas plain.
Bronco, Bronco, Bronco Layne.
Worn down around the old panhandle,
Texas is where he grew to fame.
There ain't a horse that he can't handle,
that's how he got his name.
Bronco Tidbits
Okay, you gotta pay attention here. But there'll be no quiz.
Clint Walker walked off of Cheyenne so Warners thought to replace him with Bronco Layne (Ty Hardin) even though the show still had the titleCheyenne. Then Walker returned in 1959 and Bronco became a separate show.
In the 1958-1959 and 1959-1960 seasons, Bronco alternated weeks with Sugarfoot.
Then in 1960 Bronco Layne returned under the Cheyenne umbrella, rotating weeks with Walker as Cheyenne and Will Hutchins as Sugarfoot.Sugarfoot was dropped from the group in 1961 and just Cheyenne and Bronco alternated weeks.
Aren't you glad I said there wouldn't be a quiz?
Bronco was a former Confederate Army captain who wandered the West.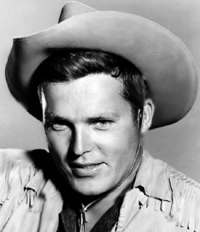 Ty Hardin
From the Doug Abbott Collection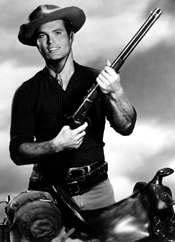 Ty Hardin
From the Doug Abbott Collection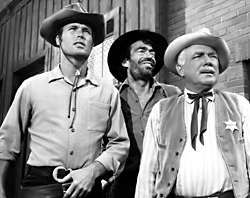 Ty Hardin and Jack Elam
From the Doug Abbott Collection
External Links
TV Guide's Bronco Page, with TV Listings, Photos, Videos, Exclusive News and More.