9/9/1966 – 7/14/1967 ABC 30 minutes
Color – 26 episodes
Based on the radio by the same name and created by George Trendle
Produced by Richard Bluel
Green Hornet Cast
Van Williams as Britt Reid/The Green Hornet
Bruce Lee as Kato
Wende Wagner as Lenore 'Casey' Case
Lloyd Gough as Mike Axford
Walter Brooke as District Attorney F.P. Scanlon
Green Hornet Theme Song
"Flight of the Bumble Bee" performed by Al Hirt.
Green Hornet Tidbits
Britt Reid (Van Williams) is handed management of his father Dan's newspaper, The Daily Sentinel in Washington D.C. With this comes a mandate to do good in the world, which this family comes by naturally as Dad is a grandnephew of John Reid, also know as – The Lone Ranger.
The Green Hornet is the great-grand-nephew of the Lone Ranger, you ask skeptically. Yes, because George Trendle created both and a plug is a plug is a plug.
The association inspires Britt and so he sets up shop as the Green Hornet, a crimefighting masked crusader. (Sound familiar?) His manservant, Kato (Bruce Lee) assists him in his deeds of derring-do. Only he, Reid's secretary and the District Attorney (Walter Brooke) know the Green Hornet's true identity.
Yes, THAT Bruce Lee, later to star in a gadzillion martial arts films.
The plot twist. The Green Hornet is considered a criminal by police and so has to beat a hasty retreat after nabbing the bad guys.
Passings
Bruce Lee died in 1973 of cerebral edema, Lloyd Gough in 1984 of aortic aneurism, Walter Brooke in 1984 of emphysema and Wende Wagner in 1997 of cancer.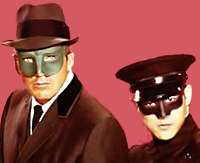 Van Williams and Bruce Lee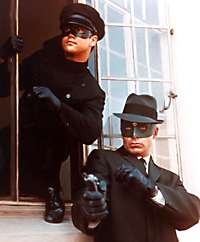 Bruce Lee and Van Williams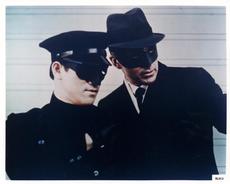 Green Hornet and Kato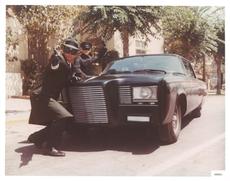 Green Hornet and Black Beauty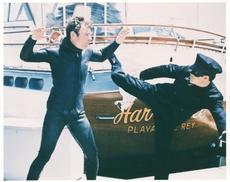 Kato kicks a bad guy
Green Hornet Trivia
(Batman Crossovers)
These are Batman stories where the Green Hornet appears."The Spell of Tut"
(9/28/1966)
"A Piece of the Action" (3/1/1967)
"Batman's Satisfaction" (3/2/1967)
Green Hornet Trivia
Black Beauty (The Car!)
Actually a 1966 Chrysler Imperial which was rebuilt by Dean Jefferies at a cost of $50,000Features:
Built-in TV camera that saw 4 miles aheadRockets – front and rear

Could spread ice over the road

Knock-out gas in front

Smoke in rear, also, brushes to sweep away tire tracks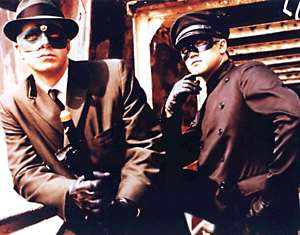 Van Willams and Bruce Lee
Green Hornet Episode Guide
Many thanks to Keith Bailey who has most of these episodes and who is an authority on Bruce Lee.
1 – The Silent Gun (9/9/1966)
2 – Give 'Em Enough Rope (9/16/1966)
3 – Programmed for Death (9/23/1966)
4 – Crime Wave (9/20/1966)
5 – The Frog is a Deadly Weapon (10/7/1966)
6 – Eat, Drink, and Be Dead (10/14/1966)
7 – Beautiful Dreamer – Part 1 (10/21/1966)
8 – Beautiful Dreamer – Part 2 (10/28/1966)
9 – The Ray Is for Killing (11/11/1966)
10 – The Preying Mantis (11/18/1966)
11 – The Hunters and the Hunted (11/25/1966)
12 – Deadline for Death (12/2/1966)
13 – The Secret of Sally Bell (12/9/1966)
14 – Freeway to Death (12/16/1966)
15 – May the Best Man Lose (12/23/1966)
16 – The Hornet and the Firefly (12/230/1966) NOTE: Some guides list this as the 26th and final episode airing on 3/24/1967. It may be that it did in fact air that date as a repeat but it is up for speculation.
17 – Seek, Stalk and Destroy (1/6/1967)
18 – Corpse of the Year – Part 1 (1/13/1967)
19 – Corpse of the Year – Part 2 (1/20/1967)
20 – Bad Bet on 459-Silent (2/3/1967)
21 – Ace in the Hole (2/10/1967)
22 – Trouble for Prince Charming (2/17/1967)
23 – Alias 'The Scarf' (2/24/1967)
24 – Hornet, Save Thyself (3/3/1967)
25 – Invasion from Outer Space – Part 1 (3/10/1967)
26 – Invasion from Outer Space – Part 2 (3/17/1967)
Batman: "The Spell of Tut" (9/28/1966)
Batman: "Tut's Case is Shut" (9/29/1966)
Batman: "A Piece of the Action" (3/1/1967)
Batman: "Batman's Satisfaction" (3/2/1967)