1950s Makeup  A peaches and cream complexion was the basis of any Fifties makeup look. Applied as either a liquid or as pressed powder, the foundation needed to reflect the soft femininity of the day.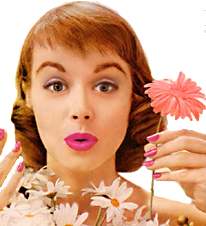 Eyebrows were usually narrowed. Blush and eye shadow were minimal and thus, natural looking. Today this makeup style would be refered to as a California look.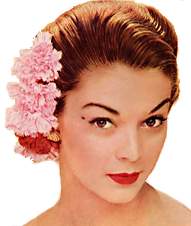 Women could get away with a more dramatic look, particularly for evening.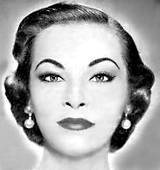 Eyeliner was liquid, making a sharp, highly defined contour. It was used primarily on the upper lid.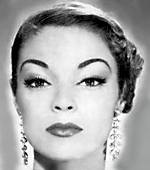 Pastels were the favored colors for day, especially for a younger woman. Women could wear red by day and it was the most popular choice for evening. Lips were colored lush and full.
The color names of the lipsticks above are:
Lilac Pastel, Apricot Pastel, Honey Pastel, Pink Pastel, Peach Pastel, Strawberry Pastel. See what I mean? And across, Snow Ball of Fire.