Rosemary Clooney
Perry Como     Pat Boone
A Brief History of the Early Years of Rock and Roll
1950s Music – 1950 -1954  consisted of light melodies, sweet lyrics, wholesome singers. Innocent and inoffensive songs. All of this can be said about the music of the Early 50s.
Yet, all that white American complacency could not hold back the vitality of Black R&B music, so a whole new sound emerged – Rock and Roll.
Most of the songs of the Early Fifties were "feel-good" tunes, which genuinely reflected the mood of post World War II America. Artists like Pat Boone
, Rosemary Clooney
and Perry Como
dominated pop charts.
This bored the newly independent life form known as teenagers. Mom and Dad's music wasn't, you know, "cool, Daddy-O."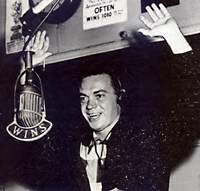 Alan FreedAbout this time, a Cleveland DJ named Alan Freed (Rock and Roll Hall of Fame inductee, 1986) began playing Black R&B tunes. Freed moved his show to New York in 1954 and began including live performances, especially of the artists with the vocal harmonies he favored. His called this sound Rock and Roll. Fittingly, he is the first Rock DJ. And many consider his Moondog Coronation Ball, held March 21st, 1952 in Cleveland, to be the very birthdate of Rock and Roll.
The Alan Freed Pages

Sam Phillips
Buy
Sun King: The Life and Times of Sam Phillips
the Man Behind Sun Records
Although gaining in popularity, these black artists originally did not sell as well as their white contemporaries, who had rerecorded the same songs as what is known as a "cover version." If you have ever heard Pat Boone's "cover" of Tutti Frutti you will understand why, thankfully, this practice of having whites "cover" black artists wasn't long-lived.
In the South, where Country and Western had ruled the charts, Sam Phillips (Rock and Roll Hall of Fame inductee, 1986) opened the Memphis Recording Service – the first place a black musician could go to record. His motto, "We Record Anything, Anywhere, Anytime."
Which appealed to a certain young truck driver. Sometime during the summer of 1953, Elvis Presley came to the Memphis Recording Service to make a record, ostensibly for his mother's birthday, but with hope of being discovered. In this initial session Elvis recorded "My Happiness" and "That's When Your Heartaches Begin."Chicago, two brothers, Phil and Leonard Chess (Rock and Roll Hall of Fame inductee, 1987) took the best of the black bluesmen performing in their nightclub and began recording them on their Chess label. Chess Records, a storefront on Cottage Avenue in the "Little Mississippi" area of Chicago, was already home to the great Muddy Waters.
Still, what both Phillps and the Chess brothers needed was a crossover artist – someone who had the energy of Rhythm and Blues and the marketability of say, Pat Boone. Someone who could sell records.
Phillips found just such an artist – Elvis Presley. And the Chess Brothers, well, they found Chuck Berry.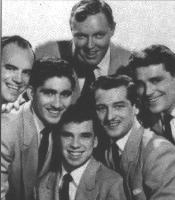 Bill Haley and His CometsIn 1952 a band out of Chester, Pennsylvania began to enjoy some modest success with a sound that was part Country and part R&B. They recorded one song in 1954 that brought only modest success. Then the song was used as the theme for a movie, The Blackboard Jungle, and that got them a whole lotta attention. The song was Rock Around the Clock
and the band was Bill Haley and His Comets. (Rock and Roll Hall of Fame inductee, 1987)
These diverse factors influenced the music of the Early Fifties. The bubblegum sweetness would eventually fade away, like the blush of America's post war optimism. Whereas Rock and Roll, with its irrepressible energy – well, Rock and Roll was here to stay.Song Charts:
1950   1951    1952    1953   1954   1955    1956   1957    1958   1959