Connie Francis had flopped on every demo song that MGM Records had given her to try. She was about to give up on an entertainment career when as a last shot she recorded a cover of a Bert Kalmar and Harry Ruby tune called "Who's Sorry Now".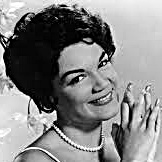 This is another excellent example of Dick Clark and American Bandstand's prowess in the business. The song debuted on the show and within 3 months had sold a million copies launching Francis's career. Her hits continued with "Stupid Cupid", "Fallin" and "Where the Boys Are" all of which were written by Neil Sedaka and Howard Greenfield.
Her music at that time was aimed at the youth market and she would frequently pass up more sophisticated tunes which would have broadened her audience. An appearance on The Perry Como Show changed that however. She was now introduced to the adult market, with Como's help she recorded an album of Italian hits and made several repeat visits to the show.
Young, attractive and could belt out a tune she became the television media darling. She did numerous commercials, guest spots on game shows like Password and What's My Line as well as musical variety shows like The Dean Martin Show and Ed Sullivan. She did shows in Las Vegas as well as the Copacabana in New York. As the spokesperson for Coca Cola her public exposure was greater than that of even the superstars of the day.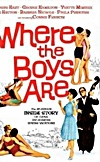 That exposure even landed her a starring role in "Where the Boys Are", the film which started spring break fever and helped make Ft. Lauderdale the college break capital of the country. The title song from the movie put her on top of the charts once again. She subsequently appeared in three more films of the same genre.
Her early success with recording an album of Italian hits both in English and Italian led her to record almost all of her albums in numerous languages. She enjoyed #1 status in Italy, Spain, Germany and the UK as well as more moderate success even in some Iron Curtain countries. In total, Francis recorded in fifteen different languages throughout her career. She would sound out the lyrics phonetically always cross checking her pronunciation with a bilingual translator to ensure that there weren't any embarrassing mistakes.


Francis didn't enjoy the same popularity after the British Invasion of the mid 1960's. Her hits hung onto the charts longer than any of her contemporaries even having a major hit in 1973 with "The Answer" a song written specifically for her. Even though her records saw declining chart successes she remained a big concert draw. Her touring work came to an abrupt stop when due to some botched plastic surgery she was unable to perform for any length of time in air conditioning.
She returned to the stage later in life but suffered manic depression and had several hospitalizations. It later surfaced that she had been bipolar for most of her life and now suffered from chemical dependence in trying to treat the disorder. She has received the proper medical care and is once again doing limited engagements and is very active in several philanthropic causes.
Below is a Partial List of Albums:
1958 Who's Sorry Now?
1959 The Exciting Connie Francis
1959 Christmas in My Heart
1959 Sings Rock 'N' Roll Million Sellers
1960 Sings Spanish and Latin American Favorites
1961 Sings Folk Song Favorites
1961 Songs to a Swinging Band
1961 Sings Never on Sunday and Other Title Songs
1962 Sings Irish Favorites
1962 Connie Francis Sings "Second Hand Love"
1963 Sings German Favorites
1963 Sings Modern Italian Hits
1963 Greatest American Waltzes
1964 Connie Francis
1964 In the Summer of His Years
1965 Jealous Heart
1965 Sings for Mama
1966 Connie's Christmas
1966 Movie Greats of the 60s
1967 Happiness: Connie Francis on Broadway
1967 Love, Italian Style
1967 My Heart Cries for You
1968 Hawaii: Connie
1959 The Exciting Connie Francis
1959 My Thanks to You
1959 Sings Italian Favorites
1960 Sings Fun Songs for Children
1961 More Italian Favorites
1961 Sings Jewish Favorites
1961 Connie at the Copa
1962 Award Winning Motion Picture Hits
1962 Do the Twist with Connie Francis
1962 Country Music, Connie Style
1963 Your Other Love
1963 Follow the Boys
1963 Connie's Big Hits from Italy
1964 Looking for Love
1964 A New Kind of Connie 1965 Sings All Time International Hits
1966 Connie Francis and the Kids
1966 Live at the Sahara in Las Vegas
1966 Songs of Love
1967 The Incomparable Connie Francis
1968 Connie and Clyde
1968 My Best to You
1968 Sings Bacharach and David
1969 Wedding Cake