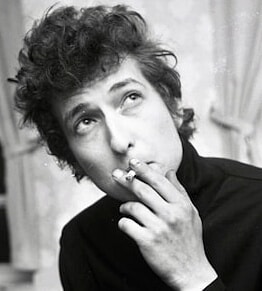 Bob Dylan is considered the most prolific and influential songwriter of the decade and probably of all time. He defined genres not vice versa. He is credited with originating folk / pop as well as folk / rock. His stream-of-consciousness, free association lyrics set the stage for others to follow. During a time of social unrest and questioning of authority he became the voice of both the civil rights and anti war movements.
His roots, or the ones he invented for himself, were in folk where he felt that he could better express himself and develop a message. His thirst for learning and trying new things moved him into experimenting with not only folk but blues, country, gospel and jazz. Each time he would settle on a particular sound he soon found himself growing bored with it and wanting to do more with his music.
What he took from his early idols Woody Guthrie, Hank Williams and Buddy Holly was that story telling and the lyric were as integral to the song as the music. Through all of the changes in musical style the story telling remained as the constant and defining component to Dylan's body of work.
Rock would soon dominate his style for the remainder of the 1960s as he tried to find himself through his style. Joan Baez was at first an influence and later an advocate of Dylan's music. She covered several of his songs always giving him credit for them as well as performing with him at venues which he wouldn't have otherwise been invited to. They eventually became lovers and produced a lot of good music.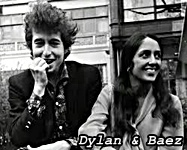 Dylan's songwriting became so popular and so many other groups were performing covers of his songs that in an effort to sell his own albums the promoters would use slogans like "Nobody does Dylan like Dylan". Some of the hits that other groups had with his material were "Mr. Tambourine Man" by The Byrds, "Blowin' In the Wind" by Peter, Paul and Mary, ""One Too Many Mornings" by the Association, "With God on Our Side" by Manfred Mann, "It Ain't Me Babe" by the Turtles and an entire album by the Hollies named " The Hollies Sing Dylan".
Dylan's own singing style was very nasal and he tended to run his words together making them difficult to understand. It was once described as "sandpaper singing with passion, wit and a great intelligence". It was the fact that the unorthodox voice matched the unorthodox content matched a very unique raw energy that propelled him to stardom.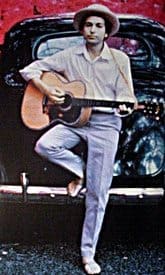 In 1966 Dylan was involved in a serious accident while on his motorcycle. The severity of the accident wasn't known nor were the extent of his injuries. The rumor mill had him badly injured and in a body cast while others had him so grossly disfigured that he would never again be able to appear in public. The truth was that although he was injured it was never life threatening or even that serious but it did give him an excuse to escape his growing obligations. He had become in his own words "a victim of his own success". Dylan did not tour again for eight years and his only recordings from the ensuing nineteen months would be made from his basement with some local musicians that were neighbors. These tapes would later be released by underground sources and called "The Basement Tapes". His first public performance was at his good friend, Woody Guthrie's memorial concert in 1968, Guthrie had died in 1967.
Below is a Partial List of Albums:
1962 – Bob Dylan
1963 – The Freewheelin' Bob Dylan
1964 – The Times They Are a-Changin'
1964 – Another Side of Bob Dylan
1965 – Bringing It All Back Home
1965 – Highway 61 Revisited
1966 – Blonde on Blonde
1967 – John Wesley Harding
1969 – Nashville Skyline
1970 – Self Portrait
1970 – New Morning
1973 – Pat Garrett & Billy the Kid
1973 – Dylan
1974 – Planet Waves
1975 – Blood on the Tracks
1975 – The Basement Tapes
1976 – Desire
1978 – Street Legal
1979 – Slow Train Coming
1980 – Saved
1981 – Shot of Love
1983 – Infidels
1985 – Empire Burlesque
1986 – Knocked Out Loaded
1988 – Down in the Groove
1989 – Oh Mercy
1990 – Under the Red Sky
1992 – Good as I Been to You
1993 – World Gone Wrong
1997 – Time Out of Mind
2001 – Love and Theft
2006 – Modern Times
2006 – Together Through Life
2009 – Christmas in the Heart