The Stand in Beatle
In June 1964, Beatlemania was at fever pitch as the band prepared for its first tour to Denmark, the Netherlands, Hong Kong, Australia and New Zealand. But on June 3, the day before the Beatles were to leave, Ringo Starr collapsed at a photo shoot and was hospitalized with tonsillitis. With hotels and concert halls booked and thousands of tickets sold, manager Brian Epstein understood that cancelling the tour would have been a financial disaster.
Epstein wasted no time in making calls to arrange a replacement drummer to stand-in for Ringo while he was recovering. This was much to the annoyance of George Harrison who reportedly told Epstein that "If Ringo isn't going, then neither am I. You can find two replacements". John Lennon and Paul McCartney were decidedly less upset with the idea of using a stand-in drummer and with the help of Epstein were eventually able to convince Harrison to soften his position by imploring him to think of the fans who'd be disappointed if they canceled the first part of their tour.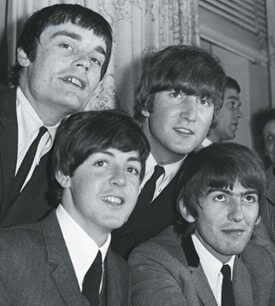 Jimmie Nicol's name was first brought up by producer George Martin who had worked with him previously and was aware that he'd been the session drummer for an album full of Beatles' covers simply titled "Beatlemania", meaning that he was able to play at least some of the Beatles' back catalogue competently already.  This was key given that they had just one day to find and train up a replacement for Ringo.
After a six-song audition, Nicol was hired, given a Beatle haircut and told to pack for the flight to Denmark the next day. In the hospital, Starr recalled that he'd replaced Pete Best as the Beatles' drummer two years earlier. "It was very strange, them going off without me," Starr said in Anthology. "They'd taken Jimmie Nicol and I thought they didn't love me any more – all that stuff went through my head."
Nicol became a full-fledged Beatle for 13 days, participating in press conferences and enjoying the adulation of fans. Nicol played eight concerts and taped a TV show as the Beatles' drummer. "The day before I was a Beatle, not one girl would even look me over," Nicol said later. "The day after, when I was suited up and riding in the back of a limo with John Lennon and Paul McCartney, they were dying to just touch me."
Starr was released from the hospital and rejoined the Beatles in Melbourne, where he performed on June 14. The next day, Nicol did his final television interview as a Beatle and went to the airport for the lonely trip home. The other Beatles were asleep as he left, so he was unable to say goodbye. Before he left, Epstein presented Nicol with a gold watch inscribed, "From the Beatles and Brian Epstein to Jimmie – with appreciation and gratitude."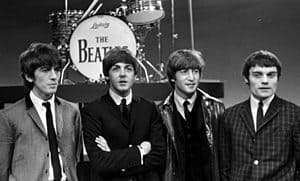 In the next few years Nicol started a couple of different bands but never had much commercial success. Paul McCartney was able to get him some work on a couple of occasions but it wasn't enough to keep Nicol in the music business.
A failed marriage and some substance abuse problems led Jimmie to take all kinds of odd jobs. Then several years later Jimmie Nicol just vanished from the radar. Neither his son nor his ex-wife could find him or even verify if he was alive or dead.
And that is the happy and sad tale of The Stand in Beatle.