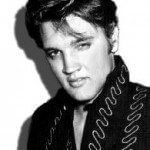 Elvis prior to induction
1950s Music – 1958  This is the year that Elvis Presley got inducted into the U.S. Army. Pvt. Presley served with the 3rd (Spearhead) Armored Division in West Germany from March of 1958 to March of 1960.
He could have opted for a softer, USO type of duty, but Col. Parker, his manager, and he felt that the critics would be harsh if he received preferential treatment. Not that getting drafted kept him off the charts. Don't and its flip side I Beg Of You made the year's Top Ten.
Go to The ELVIS SECTION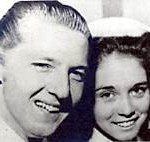 Jerry Lee and BrideThis was not a good year for Jerry Lee Lewis. On December 12, 1957 he got married, nearly sending his career up in Great Balls of Fire, the title of his big hit for 1958. See, Jerry Lee married his 13 year old distant, but very obviously, kissin' cousin. (Jerry Lee has lots of cousins, including Jimmy Swaggert and Mickey Gilley.) Branded a "baby snatcher", he was forced to cancel a concert tour in England when news of his child bride became public. Worse, there was some question as to the status of one of his two previous marriages. Goodness, gracious. Many years would pass before "The Killer", as Jerry Lee is known, would regain his popularity.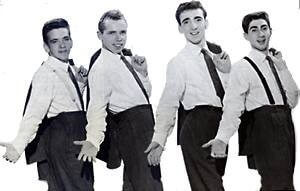 Danny and the Juniors
Danny and the Juniors had a song written for them called Do the Bop. According to legend, Dick Clark, who by now was turning many young performers into stars by featuring them on American Bandstand, heard a demo of Do the Bop. Suggesting that the dance the Bop was already out, he recommended renaming the song At The Hop.
Curious about the sock hops of the Fifties? Then your invited to join me At The Hop.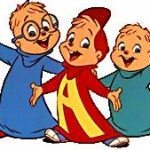 1958 was the year of the novelty song. Flying Purple People Eater by Sheb Wooley was my personal favorite and no doubt how I ended up "boldly going" along with each new Star Trek series. And yes, the same Sheb Wooley who played Pete Nolan on Rawhide.
The best selling of these novelty songs was Witch Doctor by David Seville. Real name, Ross Bagdarasian. But it was his Chipmunk Song which created the most enduring characters. Bagdarasian's son Adam was the role model for Alvin.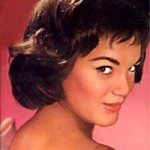 Connie Francis
Buy Connie Francis – Gold
Connie Francis became the leading female vocalist of her day, amassing records sales to equal and surpass those of many of her male contemporaries. Early Rock and Roll is strikingly devoid of women artists. A rare few, such as Zola Taylor of the Platters, were successful, but only as part of predominently male groups. Connie Francis paved the way for all the other female solo artists to come. Who's Sorry Now, her hit for 1958 demonstrated her unique style that's part Country and part Rock. She endeared herself to the people where I grew up when in 1961 she recorded Where The Boys Are, from the movie by the same name – a movie about spring break in Ft. Lauderdale, my hometown.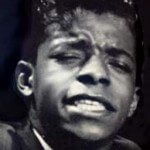 Little AnthonyFor a happy, modern day ending, look to Little Anthony and The Imperials. Anthony Gourdine came from the Ft. Greene projects of Brooklyn. He first heard "Little" Anthony used by legendary D.J. Alan Freed to introduce him on the radio. The name stuck. In 1958 with Sammy Strain, Ernest Wright and Clarence Collins, as The Imperials, Little Anthony enjoyed his biggest hit, Tears on My Pillow. Recently in 1992, Little Anthony and the Imperials held a reunion which proved so popular with the fans that they are again touring together.But, enough of that history stuff.
Let's go on to…The Songs of 1958
And also…
In other LATE BREAKING NEWS from 1958 – The U.S. folllows the Soviets into the space race with the launching of the satellite Explorer 1. As a gift to the American people, famed jeweler Harry Winston donates the Hope Diamond to the Smithsonian Institution. Just in the nick of time to alleviate the world shortage of Catholic cardinals, Pope John XXIII abrogated legislation which had limited the number of cardinals to only 70. Charles Phillip Arthur George was created Prince of Wales. Arnold Palmer won his first of four Masters golf tournaments.
Don't forget! The Pop History Section has events, prices, sports and more for this year!
In other LATE BREAKING NEWS from 1957 – The Soviet Union launches Sputnik 1, the first artificial satellite. And speaking of "celestial bodies" Jimmy Hoffa was elected President of the International Teamsters. After only ten years on the job, Philip, husband of Elizabeth II, is promoted from Duke of Edinburgh to Prince of the United Kingdom. At a Miami radio station, new employee Lawrence Harvey Zeiger abruptly adopts a stage name – Larry King. Althea Gibson, American professional tennis player and golfer was named Woman Athlete of the Year.
Don't forget! The Pop History Section has events, prices, sports and more for this year!Song Charts:
1950   1951    1952    1953   1954   1955    1956   1957    1958   1959