Frankie Valli and the Four Seasons  This highly acclaimed New Jersey, vocal group first came together in the mid-50s with a line-up comprising vocalists Frankie Valli (b. Francis Castelluccio), brothers Nick and Tommy DeVito and Hank Majewski.Initially known as the Variatones, then the Four Lovers, they enjoyed a minor US hit in 1956 with "You're The Apple Of My Eye". Meanwhile, the Four Lovers released several records under pseudonymous names, during which Nick DeVito and Majewski departed to be replaced by Nick Massi (b. Nicholas Macioci) and Bob Gaudio, a former member of the Royal Teens. The group adopted the name The Four Seasons after the name of a bowling alley where they were supposed to perform but were turned down at the last minute. They recorded the single "Bermuda"/"Spanish Lace" for the End label, and then signed with Vee Jay Records being the only white multi player group to sign with that label.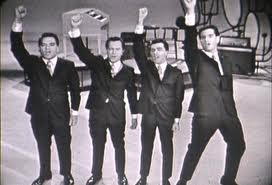 In 1962 they released "Sherry", which reached #1 on the top 40 charts. A brilliant example of falsetto, harmony pop, the track established the group as one of America's most popular. Two months later, they were back at the top with the powerful "Big Girls Don't Cry" and achieved the same feat the following March with the equally powerful "Walk Like A Man". All these hits were underpinned by lustrous, soaring harmonies and thick up-front production, which gave the Seasons a sound that was totally unique in pop at that time.
Their chart success at the time was equaled only by the Beach Boys, and together they represented the new age of rock & roll pushing some of the old standards like Elvis down the on the chart. This success would last until 1964 when the British Invasion and the Beatles changed the musical tastes of a nation.Frankie Valli in the meantime was building a successful solo career which was pioneering in itself. Valli paved the way for artists to have hits in the top 40 as both a group act as well as solo. His hit "Can't Take My Eyes Off You" reached # 2 in 1967 as well as "You're Ready Now," which scored high on the charts in the U.K.Membership in the group was very erratic, with members leaving and being replaced from 1957 on. By 1970 the two remaining 4 Seasons were Valli and Gaudio who controlled the direction of the group as well as the lucrative catalogue of recordings.Still going strong, Frankie Valli and the Four Seasons have become an institution whose illustrious history spans several musical eras, from the barber shop harmonies of the 50s to the disco beat of the 70s and beyond. It is however the timeless hit singles of the 60s to which the group are indelibly linked. It is these songs that Valli and a new group of vocalists can be heard singing on "oldie's" tours today.

BILLBOARD TOP 40 HITS
1962: "Sherry", peaked at #1
1962: "Big Girls Don't Cry", #1
1963: "Walk Like a Man, #1
1963: "Ain't That a Shame", #22
1963: "Candy Girl", #3/"Marlena", #36
1964: "Dawn (Go Away)", #3 v 1964: "Stay", #16
1964: "Ronnie", #6
1964: "Alone", #28
1964: "Rag Doll", #1
1964: "Save It for Me", #10
1964: "Big Man in Town", #20
1965: "Bye, Bye, Baby (Baby Goodbye)", #12
1965: "Girl Come Running", #30
1965: "Let's Hang On!", #3
1965: "Don't Think Twice", #12
1966: "Working My Way Back to You", #9
1966: "Opus 17 (Don't You Worry 'bout Me)", #13
1966: "I've Got You Under My Skin", #9
1966: "Tell It to the Rain", #10
1967: "Beggin'", #16
1967: "Can't Take My Eyes off You", #2
1967: "C'mon Marianne", #9
1967: "Watch the Flowers Grow", #30
1968: "Will You Love Me Tomorrow", #24