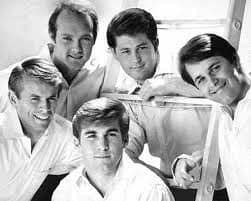 From an early age the Wilson brothers, Dennis, Carl and oldest Brian would practice singing the popular harmonies of the late 1950's. The Four Freshman were their musical idols at the time and they worked on perfecting the intricate harmonies that they became famous for. The song "Surfin" was written by Brian in High School for a music class.
The brothers hooked up with a cousin, Mike Lowe and a classmate, Al Jardine to form a group which was originally named The Pendletones. They played high school shows until they got a break. Getting an audition with some publishers the only song they had was Brian's original composition for school "surfin". It was released as a single and to the boys surprise the label stated the artists as being The Beach Boys. Upset at the name change the record company assured them that the name would help them to capitalize on the West Coast's new surfing craze. They were of course, proven correct.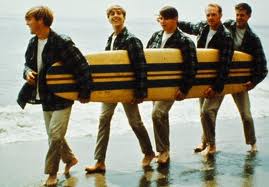 Big waves, fast cars and pretty girls were the backdrop for their subsequent hits. The sounds were mellow the tunes melodic but behind those songs Brian Wilson's abilities as a composer and producer were becoming legendary. When asked what American band they admired the most upon their arrival in the U.S. the Beatles all replied "The Beach Boys". The 1962 release of "Surfin' Safari" marked their first album with three singles on it already hits. They continued to tap into the California youth lifestyle producing 16 hit singles between 1962 and 1965. the only thing that slowed them down at all was the British invasion of 1964 and the popularity of the Beatles and other British groups.
The band played through countless changes in the lineup. Brian Wilson had an escalating drug problem which would cause his absence from the group for extended periods. This was actually a good thing for some of the other members who would then have a chance to try out their own musical ideas. In 1966 with Brian in full control the album "Pet Sounds" was released. It did not do well in the charts but is hailed as one of the best rock albums ever. In the same year they went even further into experimental sounds, fully expecting another commercial flop, by releasing the single "Good Vibrations". It became their all time biggest seller.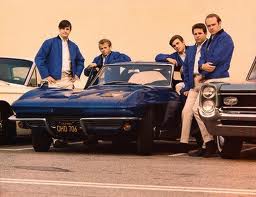 Below is a Partial List of Albums:
Surfin' Safari (1962)
Surfin' USA (1963)
Surfer Girl (1963)
Little Deuce Coupe (1963)
Shut Down Volume 2 (1964)
All Summer Long (1964)
The Beach Boys' Christmas Album (1964)
Today! (1965)
Summer Days (and Summer Nights!!) (1965)
Beach Boys' Party! (1965)
Pet Sounds (1966)
Smiley Smile (1967)
Wild Honey (1967)
Friends (1968)
20/20 (1969)
Sunflower (1970)
Surf's Up (1971)
Carl and the Passions – "So Tough" (1972)
Holland (1973)
15 Big Ones (1976)
Love You (1977)
M.I.U. Album (1978)
L.A. (Light Album) (1979)
Keepin' the Summer Alive (1980)
The Beach Boys (1985)
Still Cruisin' (1989)
Summer in Paradise (1992)
Stars and Stripes Vol. 1 (1996)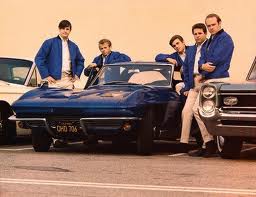 TRIVIA FACT:
Glen Campbell was a touring member of the Beach Boys, filling in for Brian Wilson in 1964 and 1965 before reaching stardom in a solo career
Beach Boys in concert