James Brown  Whether you remember him as The God Father of Soul, Soul Brother Number One, Mr. Dynamite, The King of Funk or The Hardest Working Man in Show Business James Brown is credited as having been the originator of the R&B and soul sounds that came out of the sixties. The music that he put his spin on both as a writer and a performer would go on to be a major influence to funk, jive, disco and hip hop.
If you ever saw him perform live you would call it simply unbelievable. He was a showman who took his performance cues from gospel revivals and professional wrestling incorporating feverished dancing with dramatic entrances and exits.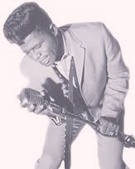 His musical upbringing was strictly gospel but the biggest influence on him both as a person and a performer was Little Richard. He saw in him the energy and enthusiasm for the music that he had learned in his gospel days. Brown had seen that passion only in preachers and it is ironic that Little Richard his mentor and best friend left the music world to become a preacher.
Brown's personal life was as colorful as his on stage performances. He was mostly raised in a brothel which was owned by his guardian, an Aunt. As a child Brown earned money by shining shoes, sweeping out stores, washing cars and dishes and singing on street corners. At the age of sixteen he was convicted of theft and sentenced to six years in juvenile prison of which he served three. Brown was plagued with brushes with the law including another three year incarceration and numerous domestic violence charges. After his juvenile prison stint he joined the band of Billy Boyd called "The Flames".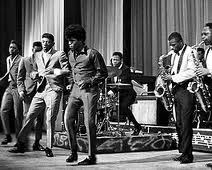 Their first hit single "Please, Please, Please" in 1956 was inspired by Little Richard and sold a million copies. The next big hit wasn't until 1959, "Try Me" hit #1 on the charts and was followed with "Do the Mashed Potato" which had to be recorded under an alias and by a different record company because of personal conflicts with his regular record label.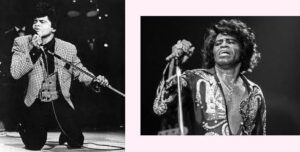 Some Of James Brown's Biggest Hits

Please, Please, Please (1956)
Try Me (1959)
Papa's Got a Brand New Bag (1965)
I Got You (I Feel Good) (1965)
"It's a Man's Man's Man's World (1966)
I Got The Feelin' (1968)
Get Up (I Feel Like Being a) Sex Machine (1970)