Elvis had to join the U.S. Army. He served until 1960. This meant a break from his music and movies.
After his army service, Elvis returned to music in 1960. His music now had a more mature and polished sound. Hits like "It's Now or Never" and "Are You Lonesome Tonight?" showed his versatility.
Unlike in the 1950s, Elvis was known for his wild rock 'n' roll style. His famous songs like "Heartbreak Hotel" and "Jailhouse Rock" were full of energy.
Elvis kept acting in the early 1960s, making light-hearted musical movies like "Blue Hawaii" and "Viva Las Vegas."
He also made a big comeback on TV in 1968 with a special performance. You can see the video below.
Elvis also got married and became a father in the 1960s. Here is his timeline during the 60s decade:
Elvis 60s Timeline
1960 begins with a promotion for Elvis to Sergeant!
Elvis returns from Germany on March 2nd and is officially discharged from military service on March 5.
His first post-Army album, Elvis is Back is recorded in late March.
Having developed an interest in karate while in the Army, on March 21 Elvis receives his first degree black belt.
In late April 1960, Elvis begins work on his first post-army movie, his fifth film, GI Blues for Paramount, the first of nine to be produced (not consecutively) by Hal Wallis. The soundtrack album will be Elvis' most successful in terms of time on the Billboard charts
May 8, 1960 brings ABC airing Frank Sinatra's Welcome Home, Elvis edition of his variety show, for which Elvis was paid a staggering $125,000.
On July 3, 1960 Vernon Presley marries divorcee and mother of three sons, Davada (Dee) Stanley, an American whom he met in Germany.Although they live at Graceland briefly, they later move to a home nearby.
March 25 of 1961 finds Elvis at the Bloch Arena at Pearl Harbor. His performance and support raises money and awareness which enables the USS Arizona Memorial to be completed the following year. This will be Elvis' last live, non-movie performance until his 1968 television special.
Elvis will remain in Hawaii thru mid-April filming Blue Hawaii. When the soundtrack album debuts in October of 1961, it sells so well that it becomes second only to GI Blues as the biggest album of Elvis' career on the Billboard charts. Buy from Amazon
Late March to late April of 1962 finds Elvis working on Girls! Girls! Girls!, and late August and September bring filming on It Happened at the World's Fair.
Priscilla Beaulieu had flown from West Germany to visit Elvis for Christmas 1962. And by early 1963 she will move there, finishing her senior year of high school in Memphis.
Elvis works on his thirteenth film, another "formula" movie, Fun in Acapulco. in the late winter of 1963.
By July, Elvis has gone to Las Vegas to film one of his most popular films, Viva Las Vegas.
Elvis records and shoots for his fifteenth motion picture, Kissin' Cousins in October of 1963.
In early 1964 Elvis purchases the Potomac, former presidential yacht of Franklin Roosevelt, for $55,000.
In March of '64 Elvis begins filming for his sixteenth motion picture, Roustabout, and by summer he's working on Girl Happy.
In October of 1964 he's at work on Tickle Me. Shamefully, this movie will have no new songs, just unreleased non-movie songs previously recorded.
Continuing the brutal schedule, by Spring of 1965 he's filming Harum Scarum. And by May, work begins on his twentieth motion picture, to be released out of chronology as his twenty-first, Frankie and Johnny.
With his huge generosity always evident, in July Elvis donates $50,000 to the Motion Picture Relief Fund, reportedly the largest single donation the organization has ever received up to this date. Barbara Stanwyck and Frank Sinatra accepted the gift.
Back to the movies in August of 1965, this time it's Paradise, Hawaiian Style. The location shoot allows for a visit to the USS Arizona Memorial, which Elvis' gifts had helped to build.
August 27, 1965. A big day. The Beatles visit with Elvis for several hours at his home in California and have an informal jam session.
February of 1966 and he's at work on movie #22 – Spinout. By June thru September it's Double Trouble. which is filmed back to back with #24,Easy Come, Easy Go.
December of 1966. Elvis proposes to Priscilla! 'Bout time!
In February of 1967, Elvis buys the Circle G, a 163-acre ranch in Mississippi, minutes across the Tennessee state line from Graceland. Here he, Priscilla and friends will indulge their love of horses. Elvis' favorite horse was Rising Sun.
RCA releases Elvis' second gospel album, How Great Thou Art, in March of 1967. It will win Elvis his first Grammy award. Buy from Amazon
February-April of '67 he's filming again. On #25 Clambake.
May 1, 1967. Just after 9:30AM Elvis married Priscilla in a small, private ceremony at the Aladdin Hotel in Las Vegas. A press conference and breakfast reception follow. Then the couple honeymooned for a few days in Palm Springs.
May 29, 1967.Elvis and Priscilla dress in their wedding clothes and have a second wedding reception in the trophy room at Graceland to include their family and friends who were not in Las Vegas for the wedding.
During the summer of '67, Priscilla's pregnancy is announced.
Back at the salt mines…In summer its movie #26, Speedway Buy from Amazon and in the fall, Stay Away, Joe.
February 1, 1968, nine months to the day of their wedding, Priscilla gives birth to Lisa Marie Presley.
And in March it's #28, Live a Little, Love a Little. The Great Dane that appears is this movie is Elvis' real dog, named Brutus, although the dog's screen name was Albert!
June 27, 28, 29, and 30. Taping for an NBC television special, which will actually air on December 3, 1968. The true name was Elvis but it is commonly called the '68 Comeback Special. Buy from Amazon
Summer of '68. Yup. #29, Charro!, and then in fall, #30, The Trouble with Girls.
During January and February of 1969 Elvis records some of his best work ever. Returning to Memphis, his produces four hits which will be released in late '69 and early '70. They are In the Ghetto, Suspicious Minds, Don't Cry, Daddy and Kentucky Rain.
In the spring of 1969, Elvis films Change of Habit, which will be his last acting role in a motion picture.
July 31 – August 28, 1969. The now famous four-week, fifty-seven show engagement at the International Hotel in Las Vegas. His show is wildly successful. Elvis' first live album, Elvis in Person at the International Hotel is recorded during this engagement. Buy from Amazon
In September, RCA releases Suspicious Minds, which becomes Elvis' first number one single since Good Luck Charm in 1962.
Elvis Presley 1960s Songs and Albums
1960
ALBUMS
Elvis is Back!
G. I. Blues
Fun Fact! Sgt. Elvis Presley was honorably discharged from the U.S Army on March 5, 1960.
SINGLES
Stuck on You
Fame and Fortune (with Stuck on You)
Are You Lonesome Tonight?
I Gotta Know (with Are You Lonesome Tonight?)
It's Now or Never
1961
ALBUMS
His Hand in Mine
Something For Everyone
Blue Hawaii
SINGLES
Surrender
Flaming Star
I Feel So Bad
(Marie's the Name of) His Latest Flame
Little Sister (with His Latest Flame)
1962
ALBUMS
Pot Luck
Girls! Girls! Girls!
SINGLES
Can't Help Falling in Love
Good Luck Charm
Follow That Dream
She's Not You
Return to Sender
1963
ALBUMS
It Happened At The World's Fair
Elvis' Golden Records, Vol. 3
Fun in Acapulco
SINGLES
One Broken Heart for Sale
(You're the) Devil in Disguise
Bossa Nova Baby
1964
ALBUMS
Kissin' Cousins
Roustabout
SINGLES
Kissin' Cousins
Such a Night
Ain't That Lovin' You, Baby
Ask Me (with Ain't That Lovin' You, Baby)
1965
ALBUMS
Elvis For Everyone!
Girl Happy
Harum Scarum
SINGLES
Crying in the Chapel
(Such an) Easy Question
I'm Yours
Puppet on a String
1966
ALBUMS
Frankie and Johnny
Paradise Hawaiian Style
Spinout
SINGLES
No Top Hit Singles charted this year
1967
ALBUMS
How Great Thou Art
Fun Fact! Elvis Presley is the only artist with two Multi-Platinum gospel or inspirational albums. Amazing Grace–His Greatest Sacred Performances is certified double-platinum, matching the sales of his 1967 album, How Great Thou Art.
SINGLES
No Top Hit Singles charted this year
1968
ALBUMS
Elvis' TV Special
SINGLES
No Top Hit Singles charted this year
1969
ALBUMS
From Elvis in Memphis
From Memphis to Vegas, from Vegas to Memphis
SINGLES
Love Letters
If I Can Dream
In the Ghetto
Suspicious Minds

Means that the album or single has been awarded Gold status by the RIAA.

Means that the album or single has been awarded Platinum status, sometimes multiple, by the RIAA.
Elvis Presley – '68 Comeback Special
The December 1968 special Elvis was a proud moment as Elvis reclaimed his title as King of Rock and Roll.
Through much of the decade, Elvis had been churning out movies, his recordings limited by soundtrack offerings. But the rest of the music world continued to evolve. The Beatles, the Stones, the Doors and others had burst onto the scene. The very world that Elvis had helped forge was moving past him.
Watch Elvis: '68 Comeback Special on Prime
Now if Colonel Parker had had his way, this special would have consisted of Elvis standing in front of a Christmas tree crooning Christmas carols. Again, a retreat to the familiar, the formulaic.
Enter Steve Binder, a producer of experience and vision. His certainty that the special should be an allegory of Elvis' life, a mixture of the rhythm and blues, gospel and country which formed Elvis' genius, convinced Elvis to ignore the Colonel and trust the young producer.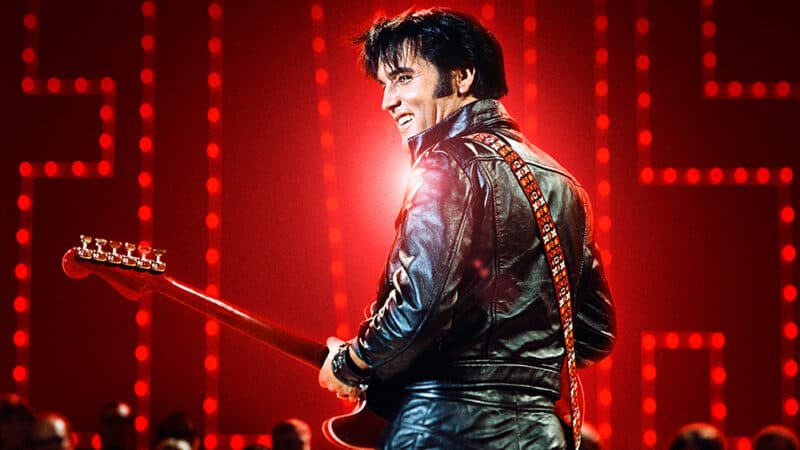 The show begins with a production number of Trouble from King Creole, which evokes Elvis' past. A country and western, song and dance version of Guitar Man traces Elvis' roots.
Perhaps best remembered are the segments taped before a live studio audience. Reunited with longtime band members Scotty Moore and D.J. Fontana, they sit on a small stage surrounded by fans. Elvis wears the famous black leather suit designed by Bill Belew and looks every bit the serious rocker. With new arrangements of his hits, these sessions are intimate and powerful.
For a finale, the Colonel was pressing for Silent Night. Yawn. Again Binder prevailed. Elvis appears on stage dressed entirely in white, standing before a huge backdrop of red lights that spell ELVIS. He sings If I Can Dream which was written just for this special. This song of hope is delivered with passion and conviction. A tour de force.
The '68 Comeback Special with its marriage of the old to the new, re-established Elvis' place as King of Rock and pointed the way for Elvis' future.
For More Info: