1960s Music – 1963 just when you thought the 50s were behind us "Puff the Magic Dragon" by Peter, Paul and Mary is banned from play at many radio stations because it is believed to be a reference to marijuana. Radio was not the only censor, on television Bob Dylan is not allowed to perform a anti-segregationist song on the Ed Sullivan Show. He refuses to perform at all and boycotts the show.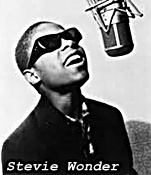 Little Stevie Wonder is yet another huge success for Berry Gordy and Motown Records. Despite two lack luster albums in 1962 Wonder finally scores big with "Fingertips" which remained at #1 for three consecutive weeks. That was Motown's only #1 spot this year.
In folk music Peter, Paul and Mary had a hit with "Blowin' In the Wind" which was actually a Bob Dylan tune. They also performed "If I Had a Hammer" at the March on Washington at which the Reverend Martin Luther King, Jr. gave his famous ""I Have A Dream" speech. They had the same manager as Dylan did and therefore were able to use a lot of his songs which also helped Dylan by giving his work more exposure.
A desire for social and political change was starting to grow among the youth of the country and at this particular moment folk was the only music that could portray those feelings. Rock would eventually follow this move into protest oriented songs but not for a couple of more years.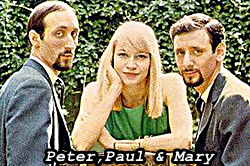 Country music lost one of the most influential and successful female artists of this time. Patsy Cline was killed at the age of 30 in a private plane crash. Her crossover success was already helping to bring country music into the mainstream with her 1961 hit "I Fall to Pieces".
"Louie Louie" became pretty much the only hit or other mention for the Kingsmen. It was however famous because of the poor enunciation of lead singer Jack Ely the lyrics were incorrectly interpreted as being indecent. The song was banned by several radio stations as well as the entire State of Indiana until the band proved that the lyrics were harmless.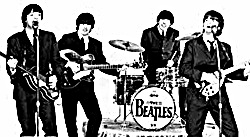 And as if it were a hint of what was coming next year, the Beatles first album "Please Please Me" is released in the U.K. where it hits #1 and stays there for an unheard of 30 consecutive weeks. The single "I Want To Hold Your Hand" was released prematurely in December of 1963 just a couple of weeks before their first visit and concert in the U.S. That "visit" in early 1964 was the very first volley in the British Invasion.
And The Grammy Goes To:
Record of the Year: The Days of Wine and Roses – Henry Mancini
Album of the Year: The Barbra Streisand Album – Barbra Streisand
Song of the Year: The Days of Wine and Roses – Henry Mancini and Johnny Mercer
Best Performance By a Vocal Group: Blowin' in the Wind – Peter, Paul and Mary
As evidenced by the above chart, the listening public was very confused this year. From crooners like Steve Lawrence, to Girl Groups, Country & Western, Beach music, Religous and R&B they all had primary spots in the top 40. Most even saw a #1 slot. This musical lack of direction is what would precipitate the huge shift to Rock & Roll and British Invasion in 1964.
Click Below For Year by Year Song Charts and Information