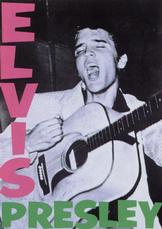 Elvis Presley1950s Music – 1956 was starting to show real change from the earlier half of the 50s…
Call him The King. Call him Elvis the Pelvis. Call him the most popular solo singer of all time. His name is Elvis Presley and 1956 belonged to him.
Go to The ELVIS SECTION
Elvis Presley Movies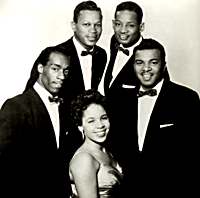 Platters1956 was a great year for lead singer Tony Williams and The Platters, with four songs on the charts. Best remembered of these is The Great Pretender.
Zola Taylor would be the first of Frankie Lymon's 3 wives.
Platters CD -The Magic Touch: An Anthology

Frankie Lymon
Buy Frankie Lymon Music
Good fortune fell upon Frankie Lymon at the tender age of 13. He and his school buddies from Harlem, The Teenagers, scored big with Why Do Fools Fall In Love? Lymon, with his high soprano voice, adorable smile and famous splits was an instant success.
Some sources credit his dancing with a white girl on Alan Freed's CBS-TV Rock 'N' Roll Dance Party with cancellation of that show.
He married three times, once to Zola Taylor of the Platters ('59). Also, Elizabeth Waters ('64) and Elmira Eagl ('65). No divorces. Oops.
Sadly, Lymon died of a drug overdose in 1968 at the age of 25.
His story was told in the movie, Why Do Fools Fall in Love.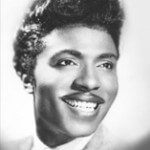 Little RichardIn New Orleans a fellow from Macon, Georgia by the name of Richard Wayne Penniman was overheard pounding a rock tune on the piano during a recording session break. Throw in a hint of gospel and alot of mascara and you've got Little Richard. That tune, by the way, was Tutti Frutti. A-wop bop a-loo bop a-wop bam boom. Although the tune had to be cleaned up to cover its earthier roots, it is considered one of Rock's most influential.
At the height of his career, Little Richard left the music business in 1957 to study at a Bible college in Alabama and to "make his peace with Jesus." Fortunately for his fans, his ministry has never completely dominated Little Richard's life. He has made several comebacks over the years, and in 1996 he performed at the Closing Ceremony of the Olympic games in Atlanta.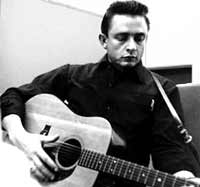 Johnny Cash
Buy Johnny Cash on CD
At Sun Records in Memphis they were known as the Million Dollar Quartet – Elvis Presley, Jerry Lee Lewis, Carl Perkins and Johnny Cash. Yup. Johnny Cash. His early roots were more R&B and a little Rock. Bet you didn't know he's a Rock and Roll Hall of Fame inductee. In 1956 he recorded the classic, I Walk The Line.
But, enough of that history stuff.
Let's go on to…The Songs of 1956
In other LATE BREAKING NEWS for 1956 – Clarence Birdseye dies leaving a legacy of frozen peas and green beans. Grace Kelly of Philadelphia marries Prince Ranier III of Monaco. The American League's Most Valuable Player, Mickey Mantle of the New York Yankees, leads in Home Runs, Runs Batted In, and Runs Scored.
Don't forget! The Pop History Section has events, prices, sports and more for this year!Song Charts:
1950   1951    1952    1953   1954   1955    1956   1957    1958   1959