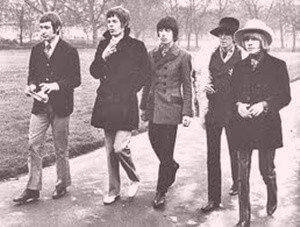 Rolling Stones was formed by Brian Jones, Mick Jagger, Keith Richards, Ian Stewart, Bill Wyman and Charlie Watts.  Mick Jagger and Keith Richards met as schoolmates in Dartford, Kent.  They took their name from a Muddy Waters song called "Rollin' Stone" and made their live debut in July 1962 at London's Marquee Club.  Their musical style relies heavily on traditional blues intermixed with rock & roll to create the unique sound which has made them successful for six decades and still going.
Before coming to the U.S. with the British Invasion the group enjoyed success in the U.K. with number 1 hits "It's All Over Now" and Little Red Rooster" both in 1964. the same year "Time Is On My Side" broke into the top ten on the U.S. charts making it to #6. The next year was their break out year in the States with both "(Can't Get No) Satisfaction" and "Get Off of My Cloud" hitting #1. "Satisfaction" would prove to be one of the most enduring hits of all time.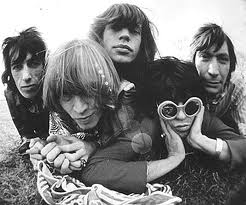 Of the original band members only Jagger, Richards and Watts still perform together.  The first and most widely publicized departure from the group was Brian Jones.  Jones was not legally allowed to enter the U.S. and suffered from addiction related health problems, so in 1969 his leaving the group was a mutual decision.  He drowned in his own swimming pool several weeks later with drugs and alcohol found in his system.  Replacing Jones on guitar was Mick Taylor who would stay until 1974 when he was replaced by current member Ronnie Wood.
Another original band member Ian Stewart only played part time as a keyboardist and rarely toured with the group.  Bassist Bill Wyman hung in until 1993 when he retired, he was replaced by Darryl Jones.  Not a full member Jones plays backup on albums.  Chuck Leavell was added in 1982 as the groups primary keyboardist.
The Stones first U.S. tour in 1964 wasn't exactly a success.  Without any hit songs the fans had little to identify with and therefore didn't flock to their concerts.  1965 saw the back to back hits "(I Can't Get No) Satisfaction" and "Get Off of My Cloud".  Both songs rose to #1 and propelled both album sales and concert attendance.  The album "The Rolling Stones, Now!" debuted at #5 and "Out of Our Heads" was their first #1 album in the States.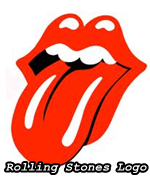 They would go on to rack up these very impressive stats:
29 studio albums with all but the first one in the Top 10 either in the U.K. or the U.S.
10 live albums with 7 of them making the Top 10
110 charted singles with over 90 of them in the Top 40
55 music videos
Their songs have been used in over 60 movie soundtracks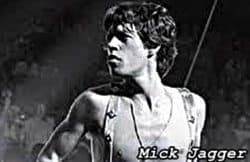 Below is a Partial List of Albums: 1960's & 1970's

England's Newest Hit Makers (1964)
12 X 5 (1964)
The Rolling Stones No. 2 "UK" (1965)
The Rolling Stones, Now! (1965)
Out of Our Heads (1965)
December's Children (1965)
Aftermath (1966)
Got Live If You Want It! (1966)
Between the Buttons (1967)
Beggars Banquet (1968)
Let It Bleed (1969)
Smiley Smile (1967)
Get Yer Ya-Ya's Out! (1970)
Sticky Fingers (1971)
Exile on Main St. (1972)
Goats Head Soup (1973)
It's Only Rock 'n' Roll (1974)
Black and Blue (1976)
Love You Live (1977)
Some Girls (1978)
Emotional Rescue (1980)
Tattoo You (1981)
Still Life (1982)
Undercover (1983)