"Queen of Soul"
Aretha Franklin had a grandly celebrated career. She placed more than 100 singles in the Billboard charts, including 17 Top 10 pop singles and 20 No. 1 R&B hits. She received 18 competitive Grammy Awards, along with a lifetime achievement award in 1994. She was the first woman inducted into the Rock & Roll Hall of Fame, in 1987, its second year. She sang at the Inauguration of Barack Obama in 2009, at the pre-inauguration concerts for Jimmy Carter in 1977 and Bill Clinton in 1993, and at both the Democratic National Convention and a memorial service for the Rev. Dr. Martin Luther King Jr. in 1968.
Aretha Franklin began her career as a child singing gospel at New Bethel Baptist Church in Detroit, Michigan where her father C. L. Franklin was minister. After a misstep with Columbia Records she found fame, rather it found her, with a string of hits for Atlantic Records,starting in 1967. Hits included "Respect", "Chain of Fools","(You Make Me Feel Like) A Natural Woman", "I Never Loved a Man (The Way I Love You)", and "I Say a Little Prayer". These were followed in '68 by "Think" and "Lady Soul". She continued with "Spirit in the Dark" (1970), "Young, Gifted and Black" (1972), "Amazing Grace" (1972), and "Sparkle" (1976).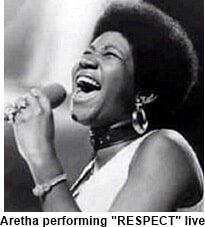 Aretha Franklin recorded 112 charted singles on Billboard, including 77 Hot 100 entries, 17 top-ten pop singles, 100 R&B entries, and 20 number-one R&B singles, becoming the most charted female artist in history. Franklin's other well-known hits include "Rock Steady", "Call Me", "Ain't No Way", "Don't Play That Song (You Lied)", "Spanish Harlem", "Day Dreaming", "Until You Come Back to Me (That's What I'm Gonna Do)", "Something He Can Feel", "Jump to It", "Freeway of Love", "Who's Zoomin' Who", and "I Knew You Were Waiting (For Me)" (a duet with George Michael). She won 18 Grammy Awards, including the first eight awards given for Best Female R&B Vocal Performance from 1968 through to 1975, and she is one of the best-selling musical artists of all time, having sold more than 75 million records worldwide.
Sadly, Aretha Franklin passed away in 2018 of pancreatic cancer, she was 76.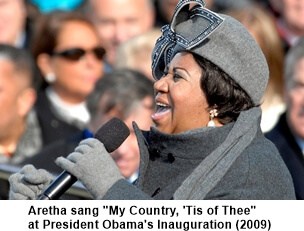 Below is a Partial List of Hits and their chart position:
1960


Today I Sing the Blues #10 (R&B)
1961
Operation Heartbreak #5 (R&B)
Won't Be Long #7 (R&B)
Rock-A-Bye Your Baby with a Dixie Melody (uncharted)
1962
Don't Cry Baby (uncharted)
Try a Little Tenderness (uncharted)
1963
Say It Isn't So (uncharted)
1964
Runnin' Out of Fools #57 (top 100)
1965
One Step Ahead #18 (R&B)
I'm Losing You #35 (top 100)
You Made Me Love You #32 (top 100)
1966
Cry Like a Baby #27 (R&B)
1967
Do Right Woman – Do Right Man #37 (R&B)
I Never Loved a Man #9 (top 100) #1 (R&B)
RESPECT #1 (top 100) #1 (R&B)
Baby I Love You #4 (top 100) #1 (R&B)
Take a Look #56 (top 100) #28 (R&B)
(You Make Me Feel Like) A Natural Woman #8 (top 100) #2 (R&B)
Chain of Fools #2 (top 100) #1 (R&B)
1968
Chain of Fools #5 (top 100) #1 (R&B)
Ain't No Way 16 (top 100) #9 (R&B)
Think #7 (top 100) #1 (R&B)
I Say a Little Prayer #10 (top 100) #3 (R&B)
The House That Jack Built #6 (top 100) #2 (R&B)
See Saw #14 (top 100) #9 (R&B)
1969
The Weight #19 (top 100) #3 (R&B)
I Can't See Myself Leaving You #28 (top 100) #3 (R&B)
Share Your Love with Me #13 (top 100) #1 (R&B)
Eleanor Rigby #7 (top 100) #5 (R&B)
Aretha Franklin Sings RESPECT: