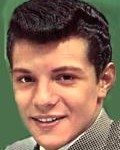 1950s Music – 1959 The decade ended much as it had begun.
Homogenized. Predictable. No raws edges. No surpises.
From the innocence of Pat Boone…
Thru the raw vitality of bluesmen
like Fats Domino…
Back to the safety of Frankie Avalon.
Rock's rougher edges had all but disappeared by 1959. Jerry Lee Lewis had been blacklisted after his marriage to his 13 year old cousin. Chuck Berry would be arrested for an offense with an underage girl. Little Richard had turned to his church.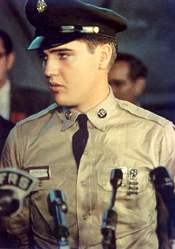 ---
Elvis Presley would return from the Army in 1960, never again to be the naughty rebel he had been in the Fifties. Under Colonel Parker's control, Elvis would remain a huge star, but he would never realize his full potential as an actor or musician.
Buddy Holly

Ritchie Valens
Further, in February of 1959, a plane crash took the lives of Buddy Holly, Ritchie Valens and the Big Bopper. Perhaps the most eloquent chronicler of the demise of Rock's early spirit is Don McLean. His epic parable, American Pie, refers not only to the deaths of Holly, Valens and the Bopper, but to the changes in Rock as well.
For more information on the crash and its victims, go to THE DAY THE MUSIC DIED.
Ever wonder what the words to American Pie mean?
GO HERE.

Bobby Darin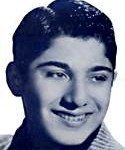 Paul Anka1959 belonged to the Teen Idols. The number one hit of the year was Bobby Darin's Mack the Knife. Ironically, Darin resisted releasing the 1928 Three Penny Opera song as a single. Also in the Top Ten that year was Frankie Avalon's Venus. Paul Anka scored with Lonely Boy and Put Your Head on My Shoulder.
Fabian had hits with Turn Me Loose and Tiger.
Annette Funicello made the charts with Tall Paul. In 1960 Annette's real life boyfriend, Paul Anka, would write Puppy Love about their relationship.
Go to The TEEN IDOL SECTION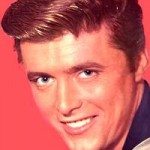 Edd Brynes
"Kookie"Speaking of dreamboats…
Capitalizing on his 77 Sunset Strip popularity, Edd Byrnes with Connie Stevens had a hit called Kookie, Kookie, Lend Me Your Comb. And in the process gave us all a new vocabulary.
Go to the 77 Sunset Strip Page
Go to the SLANG SECTIONThere were hints of the things to come. Dion & Belmonts
made the charts with a song called A Teenager in Love. Although Baby Talk wouldn't exactly end up with Golden Oldie status, the two Californians who recorded it would. Their names wereJan & Dean
. In Detroit, Berry Gordy, Jr. started a small company which he called Motown Records.In other LATE BREAKING NEWS from 1959…
Around the world: An armed revolt led by Fidel Castro pours out of the hills to overcomes Batista and establishes a Communist dictatorship in Cuba. In a place nobody had ever heard of in Southeast Asia, some other Commies who called themselves the Viet Cong, attacked military installations in South Vietnam, touching off a nasty little civil war.
Back in the good 'ole US of A: Alaska and Hawaii became the 49th and 50th States in the Union, making it a boom year for flag makers. In preparation for the O.J. Simpson trial, the Nobel committee awarded the Prize for physiology or medicine jointly to Severo Ochoa and Arthur Kornberg for their work on RNA and DNA, respectively. And, speaking of the Right Stuff, NASA named the first (7) Mercury astronauts. Can you name them? (Answers below with extra bonus points if you know what DNA stands for.)
Sports Stuff: New head coach Vince Lombardi leads the losing (1-12 the previous year) Green Bay Packers to seven wins. He also promotes the second string quarterback, Bart Starr, to a starting position. Meanwhile, NFL Commissioner Bert Bell dies. As there is no strong front runner for the job, a compromise successor is chosen – Pete Rozelle.
Don't forget! The Pop History Section has events, prices, sports and more for this year!Song Charts:
1950   1951    1952    1953   1954   1955    1956   1957    1958   1959