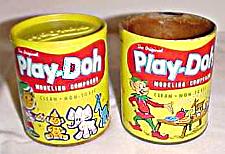 Can on left is from 1962
On right is from 1959
Young Joe McVicker of Kutol Chemicals in Cincinnati is "the man" behind Play Doh. In the course of employment with his father, McVickers came across this non-toxic substance used for cleaning wallpaper.
Now at about this time, his sister-in-law, a nursery school teacher, had been complaining about the modeling clay she had been using. It wouldn't model!
So McVicker sent her some of the wallpaper cleaning stuff. What a hit! Soon the Cincinnati Board of Education was using it in all their elementary schools.
No dummy, in 1955 McVicker then took his invention to an educational convention where department store Woodard & Lothrop picked it up to carry in their toy department.
They began manufacturing Play Doh in earnest in 1956. Initially the doh was only available in off-white 1 ½ pound cans. The three pak would be born shortly after in 1957 with red, blue and yellow and the famous four pak, including white, the following year!