Yahtzee was invented by a wealthy Canadian couple to play aboard their yacht. Whenever friends were invited aboard, they were taught how to play the "Yacht" game. Their friends enjoyed the game so much that they all wanted copies of Yahtzee for their own.
Now there's a life crisis! How to supply your yachting friends with this game?
In 1956, the couple approached Mr. Edwin S. Lowe, who had made a fortune selling Bingo games in the 1920's. They asked him to make up a few samples of the Yahtzee game for gifts. Lowe liked the game so much that he offered to buy the rights. They agreed to sell the rights for the price of the first 1,000 games produced so they could fulfill their friends requests.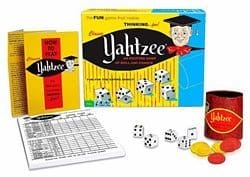 Well, not every decision is the smart one. Today, more than 50 million Yahtzee games are sold annually.
Lowe subsequently sold to Milton Bradley who later got bought up by Hasbro…